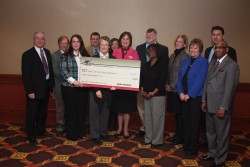 Members of the Drake University Adult Literacy Center accept the 2010 Community Betterment Grant.
(Des Moines, IA) Drake University Adult Literacy Center has received a $15,000 grant from Prairie Meadows Racetrack and Casino through its 2010 Community Betterment Grant Program.
Grant funds will help to support "Virtual Literacy to Succeed," a project that assists struggling adult readers using emerging technologies so that individuals with low literacy skills can now have immediate access to information and knowledge. Text-to-speech and speech-to-text give adult learners the opportunity to build knowledge and skills prior to their ability to gain literacy competence in the traditional sense.
The goal of the Adult Literacy Center is to improve literacy, resulting in enhanced self-esteem, daily living, and life-long learning. Utilizing volunteers, the DUALC improves the quality of adults' lives by helping them learn to read, write and comprehend. The Adult Literacy Center has been part of the Drake University School of Education since 1976. The Center is staffed by volunteers from the Drake and greater Des Moines communities.
The Prairie Meadows Grants Advisory Committee, comprised of community, business and education leaders from the greater Des Moines area, reviewed the 405 Community Betterment Grant Applications received by Prairie Meadows. The grant applications were scored on demonstration of need, leverage of other funds secured and applied for, community support, community impact, population served, proposed evaluation of results, and strength of the organization. The Grant Advisory Committee recommended $1.9 million in funding to be 192 recipients to the Prairie Meadows Board of Directors for final approval.



Members of the Prairie Meadows 2010 Grant Advisory Committee included Tom Whitney, committee chair, Dr. Mary Chapman, Dr. Jerry Deegan, Dr. Thomas Glenn, Linda Grandquist, Chaunci Hall, Mike Mathews, Dr. Andy McGuire, Ron Morden, Loretta Sieman, Brad Skinner, John P. Smith, Don Timmins, Jodi Urich, Karrie Weinhardt, and Martha Willits.



For more information about the Drake University Adult Literacy Center, visit http://www.Drake.edu/soe.