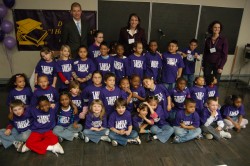 Presenting the Class of 2018!
The School of Education is once again sponsoring the Books & Bagels reading event to be held in the Curriculum Library on Saturday, February 26th from 9:00 a.m. to 10:00 a.m. for the Des Moines "I Have A Dream" program. School of Education students volunteer to come and read to the "Dreamers", provide a kind word here and there, and bond over breakfast.
Des Moines "I Have A Dream" adopted all of the first grade students attending M.L. King Elementary on November 9, 2006. There are 45 active Dreamers in the project, and we will be working with them for 12+ years to achieve their dreams! The King Dreamers are currently fifth graders at King Elementary.
The Des Moines "I Have A Dream" Foundation was founded in 1990 as an independent 501 (c) 3 nonprofit organization. The organization identifies and "adopt" groups of low-income elementary school children deemed to be at high risk of becoming school dropouts. They establish a comprehensive program of tutoring, mentoring and enrichment for that group and agree to provide comprehensive long-term program support for every child from elementary school through high school. I Have a Dream's ultimate goal is for each Dreamer to graduate from high school prepared to pursue a higher education or a fulfilling career. Since its inception, Des Moines "I Have A Dream" has grown to three Dreamer classes serving over 150 students and their families.
The King class of Dreamers are sponsored by Dr. Kari & Andy Hensen. They have committed to be a part of the Dreamers lives for the next 12 -14 years. They serve as mentors to the Dreamers and help chart the course for their success.