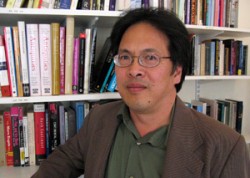 Dr. R. Bin Wong
Nationally respected Chinese historian Dr. R. Bin Wong will present his lecture, "Contemporary China in Historical Perspective," on February 15, as part of the "Young Adult Identity and Consumption in Urban China," exhibit at Drake University.
Wong, director of the Asia Institute and professor of history at the University of California "" Los Angeles, is a scholar of Chinese and world history. His research focuses on both the social and economic forces that have affected the course of Asian history and development over the past thousand years.
Wong's research argues that historians – and the American public in general – must step outside of Eurocentric thinking to truly understand China's relationship to the world.
"Many people talk about similarities and differences between China and Europe, but no one with the wisdom, acuity, and East Asian perspective of Bin Wong," said Charles Tilly, former historian and Professor of Social Science at Columbia University. "His book, China Transformed, makes us rethink many well-established ideas about Chinese history and culture."
The cultural exhibit, continuing through February 28 in the Collier Heritage Room of Drake University Cowles Library, provides an opportunity for the Des Moines community to learn about Chinese young adults as consumers and how they impact the global economy.
Thanks to a fellowship and research grant from the ASIANetwork, Darcie Vandegrift, associate professor of sociology and interim director of Drake's Center for Global Citizenship, and her students spent four weeks last summer in Nanjing, China, studying the "ba ling hou" — Chinese urban young adults born in the 1980s. Members of this Generation 80后 grew up under the Chinese one-child policy in a society shaped by rapid economic transition, emergent global influences and shifting technology landscapes.
Vandegrift's fall 2010 honors class created the exhibit with photos, artifacts and interviews collected during the Nanjing trip.


"Contemporary China in Historical Perspective" Lecture

R. Bin Wong, director of the Asia Institute and professor of history at the University of California – Los Angeles, is regarded as the top Chinese historian in the United States. His work explores why early China and Europe took different paths.

When: 7 p.m. Feb. 15, 2011

Where: Parents Hall, Olmsted Center, 2875 University Ave.

Sponsors: Humanities Iowa and Drake's Center for Global Citizenship, Chinese Cultural Exchange Program and the Department of History