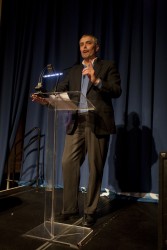 Larry Zimpleman announces the Principal Financial Group Foundation's $2.5 million commitment to the University.
Drake University recently announced that Principal Financial Group Inc. and the Principal Financial Group Foundation have committed $2.5 million to the University to support international initiatives as part of the $200 million distinctlyDrake fundraising campaign.
In recognition of the generous support from The Principal®, Drake will change the name of its Center for Global Citizenship to The Principal Financial Group Center for Global Citizenship. In addition to financial support, The Principal will provide active engagement opportunities with executives and employees of the company, providing real world experience and interaction for students.
The gift will support The Principal Financial Group Center for Global Citizenship and the objectives of the University's Internationalization Strategic Plan. This plan calls for Drake to recruit more international students, faculty and staff, expand faculty exchanges, internationalize the curriculum and increase access to study-abroad programs.
The Principal also will continue to provide operating support for scholarships, an actuarial science chair and operating funds.
"Beyond the extremely generous financial support this gift provides, it is unusually exciting because it will foster a true collaboration between The Principal and Drake to help us achieve our mission goal of preparing students to be responsible global citizens," Drake President David Maxwell said.
Larry Zimpleman, BN'73, GR'79, chairman, president and CEO of The Principal and his wife, Kathi, also have made a $1 million gift to distinctlyDrake to support international programs and services. Larry Zimpleman serves as co-chair of distinctlyDrake and a member of the Board of Trustees.
With Principal's latest gift, the campaign, launched publicly on Oct. 1, 2010, has reached a total of approximately $83 million.