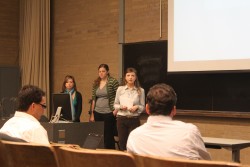 Students Kirk Wagner, Margaret Shepard, Angela Bradburn and Gabrielle Gribble present their research findings to Russ Frazier, president of Anawim Housing.
Drake public relations seniors are not only getting real life experience by preparing strategic campaigns for an area client, but this year their client, Anawim Housing, is also working to improve the Drake Neighborhood.
Anawim Housing is a non-profit corporation specializing in low-income housing management and development. The public relations project is part of the senior capstone experience.
Anawim Housing is no stranger to the Drake Neighborhood or the University. Anawim worked with Hubbell Realty Company last year on the "9 Homes in 9 Days" project at 21st Street and University Avenue. Journalism students volunteered their time to help with the project's social media outreach, and this is where the idea of developing a partnership for the senior capstone started.
"The Drake program contacted us at the end of last spring to see if we wanted to work with them the following school year," said Russ Frazier, president of Anawim Housing. "It seemed like perfect timing for us as we try to raise public awareness about our future endeavors."
One of those future endeavors is to expand into the Drake Neighborhood. They will be breaking ground this month to co-develop 16 row houses on 23rd Street and Forest Avenue with Hubbell Realty Company. Anawim will own and manage the property.
"I hope to walk away from the Drake PR capstone at the end of the year with tangible ideas on how to increase not only public awareness, but also our donor base and the services we offer," Frazier said.
Students have been working closely with Frazier to better understand Anawim's goals and vision.
"Having a client that helps people living in your own neighborhood makes you want to work even harder to see them succeed," said Kelsey Jones, a public relations senior from Galesville, Wis. "I hope our work will help raise awareness about the work they do, and help them touch more lives in the area."
Kelly Everling, assistant professor of journalism and public relations, is equally enthusiastic about the partnership.
"Working with a client that provides such a valuable service to the community allows students to continue to enhance their professional skills while giving back," Everling said.
"The yearlong process of research, strategic planning, and campaign development brings classroom lectures and discussions to reality for the students. It's an exciting project for the students and this community."
The capstone project begins in the fall semester with an in-depth research class and continues with a public relations campaign class in the spring. Students are split into agencies to assemble public relations plans and present their campaigns to the client in May.