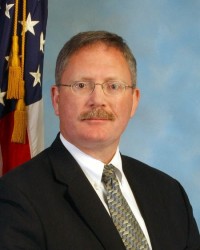 Randall Thysse
Randall Thysse, GR'92, went to school to become a CPA, but after moving next door to an FBI agent, he decided to pursue a slightly different career path.
Thysse joined the bureau in 1989 as a special agent. He was assigned to the FBI's Des Moines office and primarily investigated financial crimes. Since then, he has risen through the ranks to become a senior leader in the FBI's largest branch. He was named special agent in charge of the New York Field Office Counterintelligence Division in January.
The New York Counterintelligence Division investigates everything from traditional spy cases to counterproliferation cases. He moved from the financial fraud field into counterintelligence while working in western Montana. The variety is a benefit of working for the FBI.
"[In the FBI] you can have many different careers while having the same employer," he said.
Thysse received his MBA at Drake while he was working in the Des Moines office. At the time, his wife, Karin, BN'91, was attending Drake to complete her undergraduate degree.
"I figured if she was going to spend all her time studying, I might as well get my MBA," he said.
The skills Thysse learned while completing Drake's MBA program have been beneficial as he progressed in his career.
"You can be a good accountant or auditor when you graduate from college," he said. "As you move up, those things matter less and things like how you make a decision and how you write and communication become more important. Those were the things I took away from the program."
Thysse has enjoyed his career in the FBI, particularly the opportunity to travel the world. He has visited countries in Eastern Europe, Asia and the Middle East to see how different governments and different economies work.