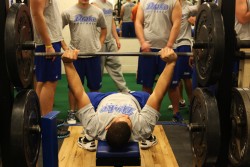 The Lift-a-thon raised $104,000
The Drake football team held a Lift-a-thon fundraiser in January to help pay for their Global Kilimanjaro Bowl trip to Arusha, Tanzania, in May 2011.
More than 90 students hoisted weights representing every dollar pledged by friends, family, fans and community sponsors — raising $104,000 toward the cost of the Africa trip. See photos of the Lift-a-thon event on Flickr .
A total of 69 players have committed to making the trip at a price tag of $4,000 per player. The trip includes a variety of community service projects and a summit of Mount Kilimanjaro in addition to the Kili Bowl game, which is slated to be the first American-style collegiate football game on African soil.
Five players are sharing trip updates and personal anecdotes on Drake's Tanzanian Touchdown, a blog at https://wwww.drakefootball.blogspot.com/. The Bulldogs will face off against the CONADEIP All-Stars, a football team from Mexico, on May 21.
"So many different people and so many different parts have come together in so many amazing ways already and we are still 3.5 months away – it blows my mind," said Drake Head Football Coach Chris Creighton. "We are so excited. We are on the backstretch of fundraising but still need more (donations)."
Meanwhile, the academic, athletic and community service opportunities arising from the trip continue to expand:
* Drake's football players who make the trip will have the opportunity to earn academic credit by completing an interdisciplinary course. "Leading with Emotional Intelligence: The Tanzanian Experience," will teach students understand and manage their emotions in order to be stronger leaders and maintain stronger relationships.
* Early this year, the site of the Global Kilimanjaro Bowl was moved from Moshi to nearby Arusha's Sheikh Amri Abeid Memorial Stadium, where the nation of Tanzania proudly raised its first national flag in 1961. The stadium will better accommodate the number of players, fans, family members, news media and travelers who are expected to attend the event.
* Iowa orthopedic surgeon Dr. Steve Meyer, who has visited Tanzania 25 times to provide valuable medical assistance to children with disabilities, recently announced that his group, Siouxland Tanzania Educational Medical Ministries (STEMM), will open an orphanage during the Kili Bowl event.
* Del Christiansen and his Iowa Resource for International Service (IRIS), which works across Africa to promote international understanding, diversity and peace, will coordinate service projects. Approximately 140 players and their coaches will provide three days' service work in Arusha and Moshi.
* Arusha-based outfitting company Kilele Savane Ltd. will handle ground tour operations for the Kili Bowl trip, including a Mount Kilimanjaro summit. Frank Mella, managing director of Kilele Savane, was a guide runner when Drake Athletic Director Sandy Hatfield Clubb ascended Mount Kilimanjaro with her father in 1993.
The many developments have travelers more excited than ever for the trip.
"I originally choose Drake because I could get a good degree at a credible university while still playing the game I love," Denzel Ray, a Drake wide receiver from Waukegan, Ill., wrote on the Drake's Tanzanian Touchdown blog. "Traveling to a place I have never been before will certainly expand my knowledge on not only the subject of Africa and all its affairs but also life itself."
Additional financial support for the trip is still needed.
Family, friends and sports fans can also book a spot on the trip. See the Global Kilimanjaro Bowl website for more information on travel packages and details on how to contribute.