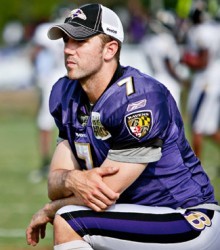 Billy Cundiff
Former Drake football player Billy Cundiff, AS'03, was the top kicker in the American Football Conference this year, securing a spot as placekicker in the NFL Pro Bowl.
The AFC fell to the NFC, 55-41, on Jan. 30, but Cundiff could hardly have wished for a better end to his year. A reporter from ESPN reported that Cundiff agreed to a five-year, $15 million deal with the Baltimore Ravens.
The Ravens kicker reportedly went from being on the bink of leaving the NFL to the top kicker in his conference, completing 26-of-29 field goals, a league-high 40 touchbacks and 162-of-163 extra point attempts during the 2010 season.
A native of Harlan, Iowa, Cundiff also was named NFL first-team All-pro at kicker by The Associated Press on Jan. 24.
Cundiff closed out his career at Drake owning 15 school and five Pioneer Football League records, including Drake career marks for points (284), field goals (49-of-79) and PATs (137-of-151). He also ranked 14th on the NCAA I-AA career field goal list, connecting on 49. Cundiff made eight field goals over 50 yards during his career at Drake, including a Pioneer Football League record 62-yard field goal as a junior in 2000 against San Diego.
Cundiff has played in the National Football League for eight years, including stints with Atlanta, Cleveland, Dallas, Detroit, Green Bay, Kansas City and New Orleans.