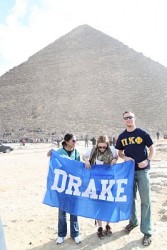 Drake students pose for a photo in front of the pyramids while studying abroad in Egypt.
Drake's evacuated Egypt study abroad students received national attention, thanks to thoughtful blog posts by Drake Junior Ian Weller. Weller, an international relations major from Waunakee, Wis., is a contributor to the blogs on Drake's undergraduate website.
In "A Bulldog Abroad," he wrote of experiences in Egypt that involved an up-close and personal look at a revolution on the streets of Cairo and reflections on his emergency evacuation.
Weller and Drake students Amina Kader and Ashley Crow were in Egypt to study Arabic as part of a Butler University's Institute for Study Abroad program, in which Drake students regularly participate. Drake study abroad staff reacted quickly as the complex situation unfolded. Students were placed in alternative programs within the span of a few days.
"Our students got a surprise, weeklong, immersive lesson in international politics, but their semesters weren't destroyed," said provost Michael Renner. "That's amazing."
Weller's compelling account sparked interest with local media, including an evening news program on KCCI, which interviewed Weller via Skype while he was evacuated to Prague.
National media also picked up on his blog: The MSNBC World Blog posted a link to Weller's blog alongside a link to an account by respected journalist Christiane Amanpour.
The Huffington Post linked directly to a Times-Delphic story by Ann Schnoebelen titled "Drake Student Finds Himself In The Middle Of A Revolution" for the site's college news section.
College Media Matters, a blog that aims to tell the story of the modern college media, posted about Weller's blog.
That post was tweeted from the @usatodaycollege account: "A thoughtful account of a #college student's experience in #Cairo – http://bit.ly/hjbI5L."
"This kind of media attention showcases our students as thoughtful, responsible global citizens in keeping with the mission of Drake University," Renner said. "We're proud that the voices of our students can lend a perspective in this time of political unrest and historic changes in Egypt."
Weller speaks Arabic and has been to Jordan on two previous occasions and led a student-group during one visit. He planned to stay in Egypt and continue to study until June, but Drake officials and program organizers arranged an early departure for the students when revolution erupted in the streets.
Despite the protests around him, Weller wrote that he felt relatively safe throughout the experience. But with student safety being Drake University's top priority, passage out of Egypt was quickly arranged for those studying there. The Study Abroad office worked to find students alternative Arabic language experiences. Weller and Kader headed to Oman, where they will finish out their semester at the School for International Training program. Crow, the third student, went on to Morocco, where she will study in Rabat for the remainder of the semester.
Out of the 12 students in the Butler study abroad program, seven decided to return to the United States. The three Drake students were among the five who decided to pursue alternative study abroad experiences.