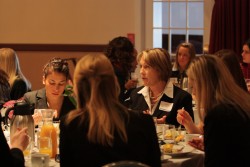 Drake's third annual Women's Leadership Breakfast was held in February.
For Kristi Knous, GR'10, the road to her role as Vice President of the Community Foundation of Greater Des Moines started with painting fire hydrants in her hometown of Merrill, Iowa. No service was too small for Knous, who now helps steer projects that impact the entire Des Moines metro.
As the keynote presenter during Drake's third annual Women's Leadership Breakfast, Knous spoke about finding her leadership "sweet spot" — where a woman's talents in the workplace, at home and giving back to the community can converge.
Knous has been recognized as one of the Des Moines Business Record's "Des Moines' s Forty Under 40," and as a "Woman of Influence," and previously worked as a child advocate and child life specialist at Blank Children's Hospital.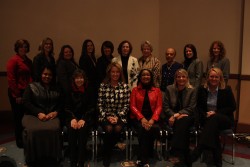 Community leaders attended the breakfast.
The breakfast, sponsored by American Equity Investment Life Holding
Company, brought together 53 female business students, 11 faculty and
staff in Drake's College of Business and Public Administration, Drake's
First Lady Madeleine Maxwell and 22 businesswomen and community leaders.
Nationwide Insurance, The Principal Financial Group, Iowa Health,
Bankers Trust, Blank Children's Hospital, Integer, American Equity Investment Life Holding Company, American Heart Association, the Greater Des Moines Partnership, Mercy Hospital, The Pet Project Midwest, Wells Fargo Home Mortgage and Seniors Helping
Seniors were among the businesses and organizations represented.
Senior Laura Menendez, who helped organize the event, said the
opportunity for students to network one-on-one with community leaders
was important, but that the interaction between students was also a
positive.
"It would be great if women can get to know each other more within the business school and feel empowered," Menendez said.
The event, held in Drake's Levitt Hall in Old Main, also celebrated
Jacquie Easley's professionalism, leadership abilities and dedication to
the community with the CBPA Women's Impact Award. Easley has a long
history of involvement with Drake University (her father was the first
African American tenured business professor) and currently serves as
director of community and diversity services for Mercy Medical Center.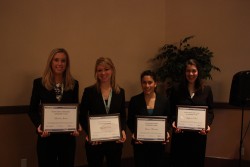 Winners of the CBPA Leadership Awards
Four female students were also recognized at the breakfast as winners of the CBPA Leadership Awards:

The First Year Leadership Award went to Stephanie Esker, a business studies student from Appleton, Wis.
The Sophomore Leadership Award was presented to London James an accounting and finance double-major from Adair, Iowa.
The Junior Leadership Award went to Lizzie Pine, a marketing, entrepreneurship and news and internet journalism triple-major from Dellwood, Minn.
Senior Leadership Award was presented to Laura Menendez, an accounting major from Estherville, Iowa.
The awards go to business students who have demonstrated
outstanding leadership skills through on-campus activities and
off-campus community service while maintaining a grade point average of
3.0 or higher.
"I'm thankful that the business school puts on events like Women's
Leadership Breakfast that helps connect professionals in the area,"
Pine said.
Knous' speech called upon student attendees to take up the torch as
the next generation of leaders, offering up their gifts and talents to
charities in need of their skills.
"Every leadership story has a main character," Knous said. "Model yours with integrity."