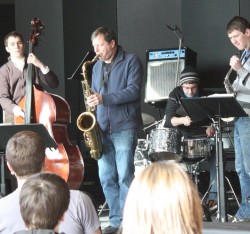 Saxophonist Chris Potter, center, performs with Drake jazz students.
CONTACT: Lisa Lacher, 515-271-3119, lisa.lacher@drake.edu, or Brianne Sanchez, 515-271-1834, brianne.sanchez@drake.edu
Drake University recently played host to a master class and concert
by Chris Potter, a Grammy nominee and renowned jazz saxophonist and
composer. Both events were well attended by Drake students and faculty,
as well as members of the Des Moines community and music enthusiasts
from across the state.
The master class, which was free and open to the public, was held in
the newly constructed home for Drake's acclaimed jazz program — the
Patty and Fred Turner Jazz Center.
Potter performed with and constructively critiqued not only Drake
students, but also student musicians who had traveled from the
University of Northern Iowa and Iowa State University. He also fielded
questions from audience members on how to develop a personal musical
style.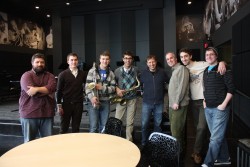 Chris Potter poses for a photo with Drake faculty and students following his master class in the Turner Jazz Center.
Drake student Frank Merchlewitz said that the master class gave students a rare opportunity to perform with a professional musician of Potter's caliber.
"Any time that younger musicians can interact in any form with a mature, well-versed performer, it's going to be a positive learning experience," said Merchlewitz, a pianist and first-year writing major from Winona, Minn.
Bassist Ben Mogerman of St. Louis, Mo., a sophomore psychology major at Drake, agreed with Merchlewitz's assessment.
"The master class was a great chance to learn from and play with a seriously top-notch professional performer," Mogerman said. "Chris Potter told us to play music that is true to our hearts and our life experiences, and that it's best to play in the present and try to create something innovative and organic."
"The biggest challenge that most jazz musicians have is figuring out how to distinguish themselves from others without completely rejecting well-tested jazz idioms," Merchlewitz added. "In a sense, it's good to learn from others and even to copy when you're first developing your sound, but that won't help you become successful unless you try to express yourself in a new way."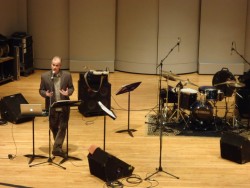 James Romain, associate professor of saxophone, delivers a preconcert lecture on Chris Potter's contributions to jazz.
Chris Potter and The Underground Quartet prompt standing ovation, encore
That evening, Potter's acclaimed ensemble The Underground Quartet
performed to an appreciative full-house audience in Sheslow Auditorium.
"The concert was great — one of the best performances I've seen at
Drake, " Mogerman said. "The group was so energized. The audience truly
wanted an encore, and we got one!"
Prior to the concert, Drake Associate Professor of Saxophone James
Romain delivered a lecture on Potter's rise to the topmost pantheon of
contemporary improvising musicians.
"Chris Potter and the Underground have built a reputation as
uncompromising musicians, deeply informed by not only the entire sweep
of jazz history, but also by funk and world music influences," Romain
said. "For Potter and his cohorts in the band, the past is not something
to re-create in the present, but rather an active source of inspiration
for a mode of musical expression that is 'in the now,' which clearly
resonates with listeners of all backgrounds."
"I really enjoyed Dr. Romain's lecture," said Drake student Stella Hart,
a junior English and music double major from Cedar Rapids, Iowa. "He
emphasized how Potter is not only a technical virtuoso, but an
incredibly innovative improviser and composer. It served as a great
introduction to the concert."