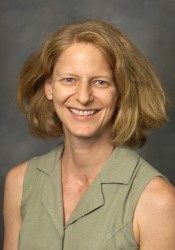 Leslie Marrs, Drake University Professor of Flute
Drake University Assistant Professor of Flute Leslie Marrs will give a faculty recital on Tuesday, Jan. 25.
The concert, which is free and open to the public, will be held at 8 p.m. on the Jordan Stage of Sheslow Auditorium in Old Main, 2507 University Ave.
Marrs will be accompanied by fellow Drake faculty members Jessica Anderson, staff accompanist; Jennifer Wohlenhaus-Bloomberg, teaching artist of double reeds; and Clarence Padilla, professor of clarinet and chair of the music department.
The program will feature compositions written in a wide variety of musical styles, including works by Edward Loder, Erwin Schulhoff and Johann Sebastian Bach.
"I really enjoy interacting with my students and colleagues at Drake University, and have been blessed with the good fortune to perform with both students and other faculty in the music department," Marrs said. "The students are interested in learning and improving on their talents, and my colleagues are very supportive. Des Moines is an ideal location — the city is large enough to provide performing outlets as well as audiences for various events while small enough to provide a sense of community."
Marrs has traveled throughout the United States and abroad, performing as a featured soloist with the Bay View Festival Orchestra, University of North Carolina at Greensboro Orchestra and the United States Army Field Band.
In 2005, she won the National Flute Association Dissertation Competition for her thesis "Integrating Extended Techniques into Flute Pedagogy: A Resource Guide for Flutists, Teachers, and Composers."
Marrs earned her bachelor's degree from Virginia Commonwealth University, her master's degree from Florida State University and her doctorate from the University of North Carolina at Greensboro.
For more information, contact the Drake Music Department at 515-271-3975.