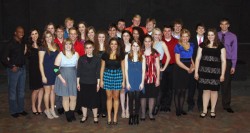 Drake's production of "Cabaret" featured a large student cast.
At first glance, you might assume the surge in enrollment in Drake's Musical Theatre Program is due to the immense popularity of the hit TV show "Glee."
Yet students and faculty don't view "Glee" as the reason for the major increase in enrollment in the program, which grew to 34 majors and 21 minors this academic year. The previous year, the program had 16 majors and 18 minors.
Instead, faculty and students attribute the program's extraordinary growth to the personal attention students receive, the outstanding character of the students and the quality of education they receive at Drake.
"When I first came here in the fall of 2007, we had 10 musical theatre majors total," said Karla Kash, assistant professor of theatre arts. "This program has grown because when we talk with prospective students, we make an effort to really get to know them. We encourage them to sit in on a class and meet current musical theatre students to see what a welcoming family we have here."
Kash also credits current students for helping recruit friends from their hometowns and also prospective students visiting the University. "Meeting our students is the No. 1 thing that brings people here," she said. "They invite prospective students to our shows, friend them on Facebook and make real connections right away."
Cameron Reeves, a first-year English and musical theatre major from McHenry, Ill., said he was attracted to Drake by the size of the program.
"I heard Drake was an up-and-coming theatre school because it had an excellent faculty in a small program, which meant I would get a lot of individual attention to improve as an actor," he said. "When I met everyone at the audition day, it solidified all the positive things I had heard."
Musical theatre audition days and audition/interviews for all theatre department degree programs will be held Jan. 29 and Feb. 5. Prospective students audition to be accepted into the program and to win a scholarship. For more information on auditions, visit https://wwww.drake.edu/artsci/theatre/NEWtheascholarships.html.
"We make audition days more of an experience than a scary appointment where you come in, perform and then leave right away," Kash said. "We want those who are auditioning to get to know the students and faculty, and we want to get to know the prospective students and their families."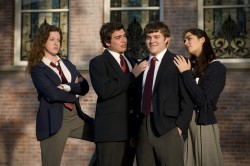 Cast members from Drake's production of "bare" pose for a photo.
As students progress through the program, they broaden their experiences to help prepare for successful careers.
"The students and faculty made me feel comfortable and confident coming
in as a first-year student," said Noby Edwards, a junior musical theatre
major from Oak Park, Ill. "Now, as a junior, I also understand how much
they care about our futures. Karla and the rest of the theatre faculty
help us get as much experience off campus as we do in our classes and
University performances."
Students are required to audition for performances put on by Drake, but
they're also encouraged to audition for community shows. Drake students
have appeared in major roles at the Des Moines Playhouse, Des Moines
Social Club and StageWest Theatre Co., to name a few.
In addition, students are urged to attend summer stock theatre
auditions, where, if selected, they are placed at different venues
throughout the country to perform through the summer.
"Drake really makes it a point to prepare students for a career for the
rest of their lives," Kash said. "We teach them not only how to act,
sing and dance, but we teach them how to audition and create a
professional network that can open doors for them in the future."
For more information about the Musical Theatre Program, contact Kash at karla.kash@drake.edu or 515-271-2897.