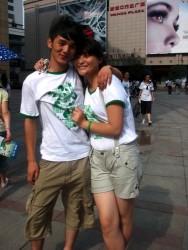 What began as summer research into Chinese life and culture is now a new exhibit opening Tuesday, Jan. 18, in the Collier Heritage Room of Drake University Cowles Library.
The exhibit, titled "Young Adult Identity and Consumption in Urban China," provides an opportunity to learn about Chinese young adults as consumers and how they impact the global economy.
Darcie Vandegrift created the exhibit with Drake student co-curator Rachel Crown as well as a summer and fall student teams. Vandegrift is associate professor of sociology and interim director of Drake's Center for Global Citizenship.
Thanks to a fellowship and research grant from the ASIANetwork, Vandegrift and her students spent four weeks last summer in Nanjing, China, studying the "ba ling hou" — Chinese urban young adults born in the 1980s. Members of this generation grew up under the Chinese one-child policy in a society shaped by rapid economic transition, emergent global influences and shifting technology landscapes.
The Drake students immersed themselves in many different facets of ba ling hou life, from bookstores to karaoke bars, to learn about how young adults perceive purchases of everyday things as a way of showing who they are.
"This generation is so fascinating because they eat, think and consume products far differently than older generations, those that lived through the Cultural Revolution and grew up with Confucian and more traditional ideals," said Xian Zhang, a graduate from Urbandale who went on the trip while majoring in sociology and law, politics and society.
Vandegrift's fall 2010 honors class then created the exhibit with photos, artifacts, interviews collected during the Nanjing trip.
"People use consumption as a vocabulary for solving problems," Vandegrift said. For example, because public displays of affection are discouraged in China, couples instead purchase coordinating "lovers clothes" to broadcast their relationship status, she said.
The opening reception for the exhibit will start at 7 p.m. Tuesday, Jan. 25, 2011, in the Reading Room of Cowles Library. Vandegrift will give a presentation on the students' research findings and the experience of creating the exhibit. The exhibit continues through Feb. 28 and will conclude with a raffle of many of the items featured in the display.
The exhibit and lectures are all free and open to the public. The schedule of lectures is available online.