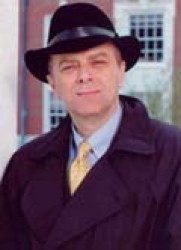 P. M. Forni
On Thursday, Feb. 3, Drake University will host a presentation by P.M. Forni, author of "Choosing Civility: The Twenty-Five Rules of Considerate Conduct," and director of The Civility Initiative at Johns Hopkins University.
The event, which is free and open to the public, will start at 7 p.m. in Sheslow Auditorium. It is part of the Better Together — Creating Community through Civility speaker series organized by Drake, Character Counts in Iowa, the Community Foundation of Greater Des Moines and the Interfaith Alliance of Iowa.
Professor Forni will discuss rules that are most essential in connecting effectively and civilly with others. He will also provide examples of how to put these rules into practice and make life — and the lives of others — more enjoyable, companionable and rewarding.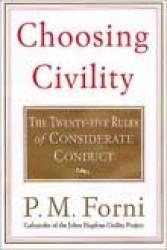 "Choosing Civility," by P. M. Forni.
A community book read is being organized in preparation for Forni's
speech. His "Choosing Civility" book is available for purchase at
partnering retailers — the University Book Store at 3003 Forest Ave. in
Des Moines and Barnes & Noble Booksellers at 4550 University Ave.
in West Des Moines.
Reservations are requested for the Feb. 3 event, which is sponsored by
Bankers Trust and ZANDA Design. To RSVP, please visit www.BetterTogetherIowa.com.
In addition, the Wallace Centers of Iowa will host a series of five
dialogue lunches based upon Forni's "Choosing Civility" book. The series
will begin Feb. 8. At each lunch, a community expert will present one
area of Forni's book and explain how it can be incorporated into daily
life.
All lunches will be held from 11:30 a.m. to 1 p.m., with the remaining
lunches scheduled for Feb. 15, Feb. 22, March 1 and March 8. Each lunch
costs $25. To register, call Janis Falk at 243-7063 or e-mail her at
janfalk@wallace.org.