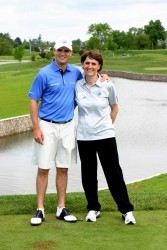 Zach Johnson with Drake Athletics Director Sandy Hatfield Clubb.
Drake University will welcome back alumnus and 2007 Masters Champion Zach Johnson on Tuesday, Jan. 25, and present him with the Double D Award — the highest honor Drake bestows on its former student-athletes.
The Double D award is given to former letter winners for their achievements and contributions to their profession and community after leaving Drake.
Johnson, who played at Drake from 1995-1998, won the 2007 Masters and represented the United States on the 2006 and 2010 Ryder Cup teams. In 2010, Johnson captured the championship at the Crowne Plaza Invitational at Colonial and tied for third at the 2010 PGA Championship.
"Receiving the Double D recognition from my alma mater is a tremendous honor," Johnson told The Des Moines Register. "I cherish my years in Des Moines and I am proud to be a graduate of such a prestigious school."
Drake will host a news conference on Jan. 25 with the traditional Double D Dinner to follow that evening. Bulldog Club members will receive a special invitation to attend the Double D awards dinner.
Johnson also will be honored at halftime of Drake's men's basketball game versus Missouri State at 7 p.m.
Tickets for the game may be purchased at the Drake Athletics Ticket Office a 515-271-DOGS (3647) or online at www.GoDrakeBulldogs.com.