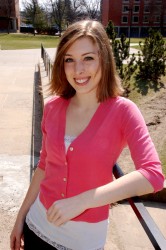 Norah Carroll
The last weeks of the semester signify a stressful season for students scrambling to finish finals, pack up for break — and seek out important summer internship opportunities.
As the annual frenzy unfolded this year, graduating senior Norah Carroll turned to Twitter, the social networking tool she uses to engage in a steady stream of conversation with users in Des Moines and beyond. A few companies she followed were posting internships from their accounts, but Carroll knew there was a more effective way to direct students to opportunities.
Carroll had seen career posts tagged #dmjobs spread in the Des Moines professional community and was inspired by how easily it connected users with job opportunities in the metro. A Twitter hashtag uses the # symbol as a prefix for gathering posts on a common topic. She created a #dmintern hashtag to collect posts about internship openings with companies and organizations in the Des Moines metro.
"Within Drake's journalism program, professors have encouraged or even required their students to get on Twitter," Carroll said. "I thought that the #dmintern hashtag would be a cool way to streamline those internship-related posts."
Carroll and her close friend and fellow Twitter user Macy Koch, a student at Simpson College in Pella, Iowa, did some basic searches for internships, linked to them with the #dmintern tag and watched the posts proliferate. Kayla Craig, JO '09, a reporter with the Des Moines Register business section, helped spur the tag's usage by retweeting from her account.
Local companies and organizations such as the Iowa Finance Authority, Iowa Cubs, Freestyle Public Relations, Blue Compass and the Iowa State Fair latched onto the hashtag, using it to promote internship openings.
"While it's difficult to measure whether we saw an increase in applicants per se, it is apparent that we drew the right applicants for the position — especially since one of the functions of the job is to assist in Iowa Finance Authority's social media presence," said Ashley Jared, assistant communications director for the Iowa Finance Authority. "I was glad to see one of the applicants even highlighting the fact that they saw the job posting through the hashtag in their cover letter."
The hashtag didn't just benefit Drake students on Twitter. The "Iowa State Daily" ran a story about Carroll's #dmintern initiative, promoting it as a tool for Ames students' summer internship search.
"I think a big part of it is just not being afraid to reach out to people through Twitter," said Carroll, who plans to graduate from Drake this spring. "I think Twitter provides a uniquely non-threatening way to communicate with people you don't know. I've found the Twitter community here to be very supportive as I've transitioned into being a young professional here."