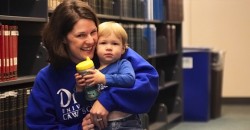 Hope Wood and her son.
Drake University law student, Hope Wood, prioritizes differently than the traditional law school student. As the mother of 17-month-old son, Graham, she has challenged herself to be a full-time student and parent.
Wood, a native of Maynard, Iowa, balances parenting responsibilities with the challenges of earning a law degree. To reflect on the completion of her first year as a law student, Wood has authored an e-book called "Law School Mom" telling her personal story.
"My journey is about finding the "˜I can' in a difficult process," Wood said. "Working parents really can make it happen if they're willing to work hard, sacrifice and prioritize."
Wood's path to law school was not a traditional one. Unlike the majority of the students in her classes, she did not always want to be a lawyer. After earning a bachelors degree in exercise science from Iowa State University, a masters degree in health & sport studies from the University of Iowa and feeling complacent in her current position, she decided to pursue a career that played to her strengths.
Her law school process started long before the first day of class. Preparing for the LSAT, submitting applications and choosing a school were all monumental decisions for Wood, as she had to consider the impact they would have on her family.
Wood shares time-management strategies, parenting dilemmas and studying tips in the e-book. She includes personal stories ranging from playtime at home with her son to feeling nervous on her first day of law school.
As the first semester progressed, her nervousness subsided and she became familiar with her classmates. Since then, Wood has met multiple students in her classes who are parents too.
"It is a system of paying it forward," she said. "You may become really close friends with the people to whom you lend support. I was able to find other parents just by getting to know my classmates."
Another law-school mother, Jayne Smith, is a part-time student and the Director of Sponsored Programs and Grant Management at Drake University. Similar to Wood, she has felt the pressures of parenting and law school.
"Adding law school to a full-time career and family makes life more complex. It is tough to keep my energy up enough at night to study, but law school is worth it. Oftentimes, it is the highlight of my day," Smith said.
Wood plans to write sequels to "Law School Mom" after each year of schooling she completes. She hopes to encourage other parents to pursue their dreams, despite the challenges along the way.
The e-book is available at www.lawschoolmom.com. For questions or further information contact Hope Wood, 515-259-1071.