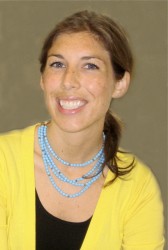 Emily Sexton Baynard
If you're flipping through a magazine this month, a new Target baby advertisement is likely to catch your eye. The retailer's new campaign highlights the everyday absurdity and hilarity of parenting, and this innovative marketing approach is receiving attention within the industry — and it has Drake fingerprints on it.
Emily Sexton Baynard, JO '07, was part of the team behind the campaign, which was featured in an AdAge article titled "Target Gets Real With New Baby Campaign:

More-Inclusive Ads Cut Cooing, Embrace Chaos."
"We knew there was a white space in the market, where retailers are either talking to parents as the expert or in a voice that's idealistic," Baynard said. "It was a perfect opportunity for Target to be more real and connect with parents about the funny and amazing truths of parenthood. I'm not a parent, but from my interaction with new parents, this campaign is relatable and I think it's refreshing."
Baynard studied abroad in London while at Drake and interned at a fashion PR firm there, Sister PR, which she said helped her land her initial position with Target, working as a business analyst for men's and women's apparel.
"Having a lot of hands-on experience — I also interned in the public relations department of a hospital and in the marketing department at Hy-vee headquarters — gave me an advantage when looking for a job after graduation," Baynard said.
Her work on the GO International label for Target introduced her to public relations and event contacts within the company — connections that lead to other opportunities promoting the brand.
"I worked behind the scenes at the Zac Posen for Target 24-Hour Party in New York City and that sort of launched my career into marketing," Baynard said. "From merchandising, I moved to the category marketing team within Target and began working on the Target baby campaign. "
The Target parenting tip videos and print ads Baynard helped oversee hit the market this month, and the brand's Target baby Facebook page was already active with thousands of fans soon after the launch.
The success of Baynard's work at Target has launched her into a new job this month, as she joins the marketing team at Coca-Cola.
"I'm excited to work on an international brand with such a strong brand presence," Baynard said. "It's an exciting challenge and, who knows — maybe I'll end up back in London!"