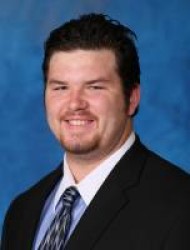 Paddy O'Connell
Drake football players will host a Lift-a-thon to raise funds for their May 2011 trip to Tanzania. The event begins at 3 p.m. Sunday, Jan. 16, in the weight room of the Knapp Center.
The Tanzania trip centers on the Global Kilimanjaro Bowl, the first American collegiate football game ever held in Africa, but it has service, academic and endurance components in addition to the game.
The price tag for the Tanzania trip is $4,000 per player. During the Lift-a-thon, students will raise barbells to raise funds, hoisting weights representing every dollar pledged by friends, family, fans and community sponsors toward the cost of the trip.
"This trip will be a once-in-a-lifetime, life changing experience," said defensive tackle Paddy O'Connell, a junior painting and entrepreneurial management double major from Orland Park, Ill. "Not only do we get to play the sport that we love in Africa, but we'll be able to give back to kids who don't have a lot."
The entire team of more than 90 players will participate in the Lift-a-thon, with the hope of raising $300,000. More information on donation, including opportunities for businesses and the benefits of sponsorship, can be found online at https://wwww.drake.edu/globalbowl/.
The Global Kilimanjaro Bowl on May 21 in the city of Moshi, Tanzania, will be the first American collegiate football game ever held in Africa. The Bulldogs will play the CONADEIP All-Stars, a college team from Mexico. During the final six days of the trip, both teams will climb and summit Mount Kilimanjaro, the highest point on the continent of Africa at 19,298 feet.
The teams will not only compete on the football field, but also work together on numerous community service projects in and around the city of Moshi. These include conducting youth football clinics and building a much-needed addition at the Kitaa Hope Orphanage, which provides a home for children orphaned by HIV/AIDS. The projects are being planned and coordinated by the Iowa Resource for International Service.
"This is an experience of a lifetime for our young men," Drake Head Football Coach Chris Creighton said. "This is more than just football — this is about seeing our world, experiencing our world and, most importantly, giving back to our world."