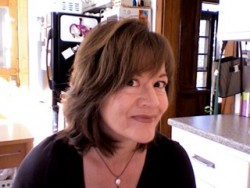 Carol Spaulding-Kruse
Drake University students enrolled in "Service Writing," a course that
partners English students with local non-profit agencies, are given the
opportunity to gain practical writing experience while also contributing
to the community.
The course, taught by Associate Professor of English Carol
Spaulding-Kruse, focuses on the literary components of social action,
the practical and theoretical issues that confront non-profit writers
and how writing can be applied to real world needs.
Kara Rhodes, a senior creative advertising major from Braidwood,
Ill., interned as a service writer for Beacon of Life, a women's shelter
in Des Moines.
"You not only work for non-profits, but you learn how to take the
initiative and develop projects on your own," Rhodes said. "This course
effectively teaches you how to become a creative leader in your
community. Drake courses, especially Service Writing, make a real effort
to engage students with the Des Moines community and the rest of the
world."
Josie Pokorny, a junior biochemistry, cell and molecular biology and
writing double major from Des Moines, was partnered with the Polk
County Health Department during the fall 2009 semester. After the
course, she continued to work with the organization as an intern.
"Thanks to this course, I am able to relate to people better,"
Pokorny said. "We took time every week or so to share with the class
what we were working on at our respective organizations. It opened my
eyes to all the great organizations in Des Moines, and I got to hear
about the various issues they were addressing."
Alexandra Roth, a senior psychology and writing double major from
Kansas City, Mo., agreed with Pokorony's assessment of the course.
"One of the things I've most appreciated about this course is the
combination of real-world experiences with the opportunity for sincere
self-reflection," said Roth, who interned with Children and Family Urban
Ministries in Des Moines. "While I've learned a lot about service,
community and writing over the semester, I've also learned a lot about
myself and the value I place on service."
While enrolled in the course, students spend 8 to 10 weeks
completing approximately 25 to 30 hours of writing service for one or
more community organizations.
Past partnerships have included organizations such as the Des Moines
Symphony, Race for the Cure, the American Friends Service Committee and
the Iowa State Historical Society.
"The course was inspired by students who have shared with me over
the years how much they want their university education to make a
positive difference in the world," Spaulding-Kruse said.
"For writers, whose compositional work seems so solitary, the idea
of writing that makes a difference has a special appeal. At the same
time, the need for literate and engaged citizens in the community is
significant. Everyone — students, community non-profits and the
populations they serve — benefits from this partnership."
For more information, including how to register an area non-profit as a partner, visit: http://artsci.drake.edu/english/WritingInternshipProgram.