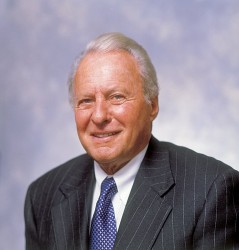 Bill Knapp
Drake
benefactor Bill Knapp receives Iowa's highest citizen honor
Drake
Trustee Emeritus Bill Knapp recently received the Iowa Award, the state's
highest citizen honor, in recognition of his service accomplishments within the
Des Moines community, the state of Iowa
and the United States. He accepted the award last weekend at a ceremony held at the State
Capitol.
During
the event, the heads of
Drake University, Casey's General Stores and the Iowa State Fair Blue Ribbon
Foundation praised Knapp's business acumen, his philanthropic efforts and his
contributions to the community.
"It's
no exaggeration to say that Bill Knapp and his family represent the best in
Iowa values," said Iowa Gov. Chet Culver.
Knapp,
founder of Iowa Realty and Knapp Properties Inc., is the 21st person to receive the Iowa Award since it
was founded by Iowa Gov. Robert D. Blue in 1948. The award was created to
encourage and recognize the outstanding service of Iowans in the fields of
science, medicine, law, religion, social welfare, education, agriculture,
industry, government and other public service.
"For me, Bill Knapp is
an emblem of all that is good and special about this State –someone from
modest beginnings who worked hard and tirelessly to educate himself, to serve
his country and ultimately to build several exemplary business
enterprises," said Drake President David Maxwell. "He then committed
all that he had achieved and learned in service to his community. I think Bill
is superbly deserving of the distinctive recognition of the Iowa Award."
A lifetime commitment to community service and
philanthropy
After two years in the United
States Navy and graduating from the American Institute of Business, Knapp
founded Iowa Realty in 1952 and gradually built the company into the state's premier
real estate company. He formed Knapp Properties Inc. in 1992 to continue the
development and management of his business.
In recognition of his philanthropy, Knapp has received the Variety Club
of Iowa's Humanitarian Award, the Mid-Iowa Council-Boy Scouts of America Distinguished
Iowa Citizen Award and the Des Moines Real Estate Board's Citizen of the Year
award for community service and leadership.
Knapp served on the Drake Board of Trustees from 1976 to 2006. In 1992, he received the Drake University Distinguished Service
Medal — Drake's highest honor — in recognition of his dedication to the
University, and, in 2008, he was honored with the designation of trustee emeritus,
an honor granted only to a very few trustees who have served the University
with distinction.
He also has been a major financial benefactor of the University. Thanks
to his generous support, Drake completed the William C. Knapp Center in 1992,
which was named in his honor. The Roger Knapp Tennis Center was named in honor
of Knapp's late son, who served as the Drake men's tennis coach from 1989 to
1994.