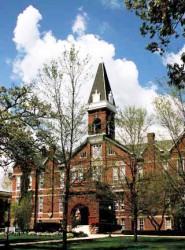 Drake University today announced two gifts totaling $4.5 million from
alumni. With these gifts, the
distinctly
Drake fundraising campaign
exceeds $80 million.
Drake had already received more than $74 million in gift commitments
when the University kicked off the $200 million capital campaign on
Oct. 1, 2010. The distinctlyDrake campaign is designed to propel the University to its place as one of the nation's very best institutions of higher learning.
Drake Board of Trustees Chair Don Fletcher today announced that
Morgan E. Cline, a 1953 Drake pharmacy graduate, is providing $2.5
million to construct an atrium building that will link the Morgan E.
Cline Hall of Pharmacy and Science to Harvey Ingham Hall. The new
facility, which will house faculty offices and informal gathering places
for students, faculty and staff, will be called the Morgan E. Cline
Atrium for Pharmacy and Science.
Fletcher also announced that Herb Baum, a 1958 Drake graduate, and
his wife, Karen, have made a $2 million gift to endow the Herb and Karen
Baum Chair of Ethics and the Professions. The faculty member selected
as the chair will guide students in developing a firmly grounded
personal commitment to the highest standards of ethics and ethical
decision-making.
"We are very, very grateful for these extremely generous gifts from
Morgan Cline and Herb and Karen Baum that advance the distinctlyDrake
campaign, and that move the University forward," Fletcher said.
"These magnificent gifts are compelling symbols of the donors'
confidence in Drake, and in our ability to make our collective dreams
for Drake a reality," said Drake President David Maxwell.
Drake will share the University's transformational plans and
celebrate the progress of distinctlyDrake at a reception from 6:30 to
8:30 p.m. Friday, Jan. 14, at the Temple for Performing Arts, 1011
Locust St. Alumni and friends are invited to the event, which costs $30
per person or $20 for recent graduates. Reservations may be made by
calling 515-271-3147 or visiting the Drake website.





Morgan E. Cline
Cline Atrium to benefit students and faculty
The Morgan E. Cline Atrium for Pharmacy and Science will enhance
Drake's exceptional learning environment by providing an inspiring place
for thought, creation and socialization between students and faculty in
the College of Pharmacy and Health Sciences. The facility also will
foster collaborative interactions among professors by housing the
college's entire faculty within a three-building complex — Cline, Fitch
and Harvey Ingham halls.
"When I was a pharmacy student at Drake, the only place we had to
hang out was in the walkway linking Fitch and Harvey Ingham," Cline
recalled. "We spent hours up there in that walkway or just sitting on
the steps. I think it's a good idea to create a commons area where
students can hang out, plus they'll be able to go from Fitch to Harvey
Ingham to Cline without getting wet or putting on a coat."
The atrium will be the second Drake building named in honor of
Cline, a founding partner of Cline, Davis & Mann, a New York
advertising agency specializing in pharmaceuticals.
Cline, who grew up on a farm near Centerville in southern Iowa,
began his career as a pharmacist in the U.S. Army, and then went to work
in a New Jersey pharmacy. He changed career paths after that pharmacy
was threatened by rioting in the late 1960s. He joined an advertising
agency as an account executive working with pharmaceutical clients. He
worked for several agencies before founding Cline, Davis & Mann with
two of his colleagues in 1984.
Since then, Cline has served on Drake's Board of Trustees and been a
major benefactor of the University, endowing a scholarship fund for
pharmacy students with a $5 million gift in 2001. Drake renamed its
Pharmacy and Science Hall in honor of Cline that same year.
Cline also has been a generous supporter of the revitalization of
Centerville and is spearheading the renovation of the old Majestic movie
theater as a community theater. Now retired, he lives in Red Bank,
N.J., and Palm Beach, Fla.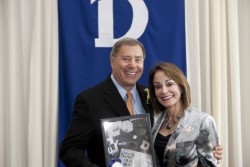 Herb and Karen Baum at the Alumni Awards Ceremony last April.
Baum gift, endowed chair boost Drake's emphasis on ethics



Garry Frank, Drake professor of public administration, has been
appointed the inaugural Herb and Karen Baum Chair of Ethics and the
Professions. The Baums, who live in Jupiter, Fla., will participate in
the installation ceremony for Frank at noon on Friday, Jan. 14, at the
Principal Financial Group, 711 High St.
Herb Baum recently was elected to the Drake Board of Trustees. A
graduate of Drake's College of Business and Public Administration, he
has received both the Alumni Distinguished Service Award and the Alumni
Achievement Award from the University. He is retired chairman, president
and CEO of soap maker Dial Corp., now a subsidiary of Germany's Henkel
Group. He previously held executive positions at Hasbro Inc., Quaker
State Corp. and Campbell Soup Co.
"I'm delighted to have Garry Frank, a man who has spent more than 25
years teaching ethics at Drake, selected as the recipient of this
chair," said Baum, who spent the bulk of his career promoting business
ethics. "I am confident he will bring emphasis to ethics themes across
the curriculum in Drake's various colleges and schools."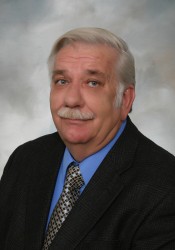 Garry Frank
"To be selected for this position is indeed a humbling experience,"
Frank said. "Herb and Karen Baum's gift elevates the importance of
ensuring that Drake students are prepared to meet the ethical challenges
they will encounter once they leave the classroom and enter the working
world."
Frank, who joined Drake in 1983, specializes in instructing, writing
and speaking on ethics along with corresponding policy issues in public
service, nonprofit groups and private industry. He is co-author of
several books and has published more than 40 articles on business and
professional ethics issues.
His responsibilities as chair include conducting an annual Baum
Symposium on Ethics and the Professions and interacting with
organizations in the Des Moines area regarding ethics and values in the
workplace.
There will be a competitive application process every three years to
select the next chair. Faculty members with the rank of full professor
may apply for the position, which will rotate among Drake's six colleges
and schools.