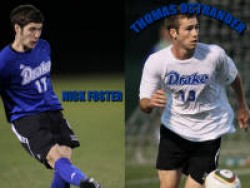 The Drake men's soccer team added some additional hardware as senior Nick Foster (West Des Moines, Iowa/Valley) and junior Thomas Ostrander (Fort Dodge, Iowa/St. Edmond Catholic) became the first-ever Bulldogs named to the first team National Soccer Coaches Association of America (NSCAA) Men's College Scholar
All-America Team.
The duo becomes the ninth and 10th Drake players to garner NSCAA Academic All-America accolades, but the first two to be named to the first team.
"This is a great honor for both these young men and the program," Bulldog head coach Sean Holmes said. "I like to think getting first team is not only a representation of their efforts in the classroom and on the field, but a cumulative effort of the student-athletes that preceded them. We have clearly grown as a program and continue to set the bar higher for each succeeding class. This is a nice way for Nick (Foster) to cap off his tremendous career and for Thomas (Ostrander), the goal now is clearly to repeat next season. I think that is well within his reach."
Foster, who owns a 3.52 grade-point average in accounting and finance, started all 18 games for the Bulldogs registering one goal and one assist on 10 shots en route to first team All-MVC accolades.
Maintaining a 3.62 GPA in accounting and finance, Ostrander appeared in all 18 games, including 17 starts, leading Drake in goals (5), points (11) and game-winning goals (2), while ranking second in shots (33) and shots on goal (13) en route to being tabbed to the All-MVC second team.
To be nominated for consideration, student-athletes must have at least a 3.30 cumulative grade-point average (on a 4.0 scale); start more than 50 percent of all games and be a significant contributor to the team; be nominated by an institution that is a current NSCAA College Services member; be a junior or above in academic standing at the current institution and either be in their second year at the

current school if a transfer student.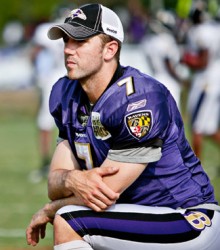 Billy Cundiff
Former Drake kicker Cundiff selected to Pro Bowl
Former Drake football standout Billy Cundiff was selected to start as
kicker for the American Football Conference in the Jan. 30 Pro Bowl in
Honolulu, Hawaii. It was his first selection to the Pro Bowl coming off
of a season where he led the league in touchback percentage.
Cundiff, who set 15 Drake and five Pioneer Football League records
from 1998-2001, was also named to Sports Illustrated 2010 Mid-Season
All-Pro Team as compiled by Peter King on Nov. 4.
On Sunday, Cundiff kicked three field goals and added three extra
points for a total of 12 points in the Baltimore Ravens' 30-7 AFC
wild-card playoff victory over the Kansas City Chiefs at Arrowhead
Stadium in Kansas City.
Cundiff, a native of Harlan, Iowa, connected on two field goals of
29 yards in the third quarter, when the Ravens built a 23-7 lead.
Cundiff also made a three-pointer from 19 yards in the first quarter to
give Baltimore a 3-0 lead.
The Ravens move on to play the Pittsburgh Steelers in the next round next Saturday.
As a student-athlete, Cundiff set Drake career marks for points
(284), field goals (49-of-79) and PATs (137-of-151). He also ranked 14th
on the NCAA I-AA career field goal list, connecting on 49.
Cundiff made eight field goals over 50 yards during his career at
Drake, including a Pioneer Football League record 62-yard field goal as a
junior in 2000 against San Diego.