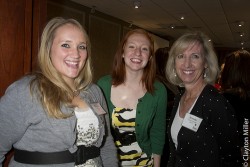 Drake alumnae networked at the Drake Women's Connection of Chicago's first event in October.
The Drake Women's Connection of Chicago will host its second event Thursday, Feb. 3. The happy hour will be held at 5:30 PM in the Midtown Kitchen Bar in Chicago.
The group was founded earlier this year to provide networking opportunities to Chicago-area Drake alumnae. Diane Caldbeck, associate vice president for alumni and development, said the goal is to create a community of women who will benefit both personally and professionally from the connections they make within the organization.
So far, there has been an enthusiastic response to the Drake Women's Connection. Nearly 90 women attended the inaugural brunch in October and others have expressed interest in joining the organization since its first event.
"We are thrilled with the response," said Debbie Bianucci, JO'78, GR'84, who serves as the organization's chair. "It has exceeded all expectations, both in terms of the number of women interested and the degree to which they are interested."
Bianucci said Drake has always done a good job of creating opportunities for Chicago alumni and their families to get involved and meet each other. The Drake Women's Connection of Chicago complements these efforts.
"I think we struck a cord," said Bianucci. "We had some real success in showing the value of how women could connect and network with each other."
To RSVP for the event, visit www.alumni.drake.edu. For more information on the organization, contact the Drake Alumni Office at alumni@drake.edu.