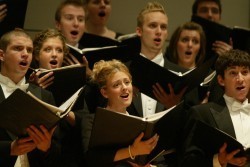 Members of the Drake Choir will perform two songs at the Service of Dedication for Gov.-elect Terry Branstad set for 7 p.m. Thursday, Jan. 13, at St. Ambrose Cathedral, 607 High St.
The Drake students will sing "I Thank You God" by Gwyneth Walker and "The Promise of Living" by Aaron Copland. Aimee Beckmann-Collier, director of choral studies at Drake, will conduct the choir.
"We're happy to represent Drake at this important gathering of Iowa's political leaders, which will take place on the night before the inauguration of Iowa's next governor," Beckmann-Collier said.
Beckmann-Collier, who was acquainted with Branstad's wife, Chris, when they were both high school students at St. Joseph Academy in Des Moines, said there were several reasons the Drake Choir was invited to participate.
"The Branstads were eager to have young people join in this ecumenical endeavor," she said. "Also, I had done the music for an earlier such service, plus he is a Drake alum, and Chris and I sang together in high school."
Branstad earned his law degree from Drake in 1974. He previously served four terms as governor — from 1983 to 1999 — and later became president of Des Moines University. He left the medical school to run for a fifth term, defeating Gov. Chet Culver, also a Drake alumnus, in the November election.
For more information about the Service of Dedication and the Inaugural/Swearing In Ceremony for Branstad, visit http://governorbranstad.com/inaugural/.