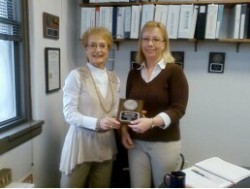 Mary Jo Smith, left, hands the Meritorious Service Award to Kristi Fuller.
Kristi Fuller, assistant director of continuing student programs, at Drake University, has received the 2010-11 Meritorious Service Award from the Iowa Association of Student Financial Aid Administrators.
This award is presented to an individual or committee making significant contributions to the IASFAA or financial aid profession. The recipient is selected based on leadership and commitment to special projects.
In announcing the award at the association's fall conference in Iowa City, Award Committee Chair Gisella Baker noted that Fuller has helped organize many major events within IASFAA, such as Make High School Count, College for a Day and the Leadership Symposium. Fuller also has served as the association's vice president.
"Kristi Fuller's quiet leadership is an asset to IASFAA, as our past IASFAA president recognized by awarding her the Presidential Award last school year," Baker added.
"I was very surprised and honored to receive the award," said Fuller, who joined Drake's Office of Student Financial Planning in March 2005. "I am pleased that I was able to provide my talents to help the state association and college students in achieving their goals."
Although Fuller was unable to attend the awards ceremony in Iowa City, Mary Jo Smith, co-chair of the IASFAA Awards Committee, presented the award to her at Drake at a later date.