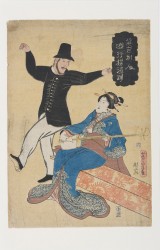 Utagawa Yoshitora, Japanese; "Englishman Being Entertained" from 1861. Woodblock print. 10″x14″
We often hear the term "diversity." But who decides what constitutes diversity? Differentiating one group of people from another is a process — a process of "othering" — that highlights characteristics that distinguish one group from another. These categories are fluid: at times, groups highlight their differences from one another, at other times the same groups overlook differences and, viewing similarities, unify.
More than 50 works from Japanese, Chinese and African artists of the late 19th century and early 20th century are brought together in "Imaging Others: Cultural Intersections in the Colonial Period," the landmark exhibition open through Friday, Dec. 17, at Drake University's Anderson Gallery. The gallery hours are noon to 4 p.m. Tuesday through Sunday.
The exhibition, which opened Nov. 19, has featured a gallery walk and a panel discussion with


Lenore Metrick-Chen, art historian
John W. Monroe, historian
Michael Chiang, historian
Glenn McKnight, historian
About the Exhibition

The exhibition looks at the process of "othering," displaying the wide assortment of other ways nations viewed each other during the turbulent 19th century.
"Imaging Others" illuminates the distinctive interaction between art and commerce, demonstrating how artists of this era interpreted the transformations that occurred between cultures.
The exhibit incorporates Japanese 19th century prints depicting the first Japanese impressions of Westerners, at the time when the West persuaded Japan to open its ports to Western trade.
The exhibit also features African sculptures portraying white people, or incorporating items from European countries into culturally significant objects. In addition, stereographs and photo-postcards show Chinese people in the United States, and Westerners in China.
"In each culture, some objects emphasize the foreignness of another group, while other objects from that same culture reveal the incorporation of once foreign people and their works," says Lenore Metrick-Chen, curator and professor of art history. "Through the process of othering, not only is the other group defined, but often inadvertently, we reveal characteristics of our own."
The exhibition is organized into several groupings that closely examine thematic intersections such as utility, spirituality, and power, while also examining ways in which Africans, Japanese and Chinese artists viewed the West and western practices and dress. A prominent theme throughout the exhibition is the idea of market exchange and commodification.
About the Anderson Gallery

The Anderson Gallery is located on the southeast corner of the campus of Drake University. The gallery is located on the first floor of the Harmon Fine Arts Center at 2505 Carpenter Avenue. Parking is available directly to the east of the building.
For additional information, visit https://wwww.drake.edu/andersongallery or contact the director, Heather Skeens, at 515-271-1994.