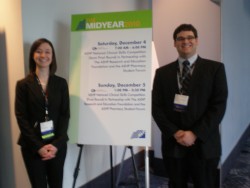 Katie Owen and Andrew Swartz
A pair of seniors in Drake University's Doctor of Pharmacy program recently placed third in a national clinical skills competition that drew 110 teams from across the country.
Katie Owen of Woodbury, Minn., and Andrew Swartz of Superior, Wis., were awarded third place in the American Society of Health-Systems Pharmacy (ASHP) National Clinical Skills Competition held Dec. 4-5 in Anaheim, Calif.
The competition requires students to conduct an interactive, team-based analysis of clinical scenarios for hospital/health-system pharmacists to help patients make the best use of their medications.
Owen and Swartz are the second pair of Drake students to receive Top 10 honors in eight years and the first Drake students to make it to the Top Three in this competition.
"This placement is Drake's highest in the history of our participation in the ASHP Clinical Skills Competition," said Raylene Rospond, dean of the College of Pharmacy and Health Sciences. "This result reflects the innate talent of Andrew and Katie and the emphasis that Drake's curriculum has placed on enhancing clinical skills using practical examinations and team-based learning methods. We are extremely proud of their accomplishments."
The semifinal round of the competition took place Saturday, Dec. 4 at the ASHP Midyear Clinical Meeting held at the Anaheim Convention Center. The teams submitted a written pharmacist's care plan for the competition's patient case within a two-hour time frame. Judges evaluated the teams' care plans and assigned scores.
"Katie and I have a complimentary knowledge and skill set and we were able to work effectively as a team," Swartz said. "The competition taught me to think on my feet and to cope with limited time and resources in answering questions on a complex clinical situation."
The top 10 scoring teams were announced by ASHP President Diane B. Ginsburg at the Midyear Meeting Overview on Sunday, Dec. 5, and competed in the final round later that day. The final round consisted of a two-minute presentation in which students presented a brief summary of the patient's condition and a complete treatment plan for the patient's most urgent problem. Following each presentation, the finalists answered judges' questions for eight minutes.
"When faced with a complex clinical scenario, Andrew and I were able to trust in each others' knowledge and complementary skills to divide up the work of the case," Owen said. "The competition tested our abilities both to make good pharmacotherapy recommendations and to defend and justify our decisions, which are critical thinking skills used by clinical pharmacists every day."
As finalists, Owen and Swartz each received a copy of Pharmacotherapy: A Pathophysiologic Approach, an Apple iPod Touch loaded with a one-year subscription of the Lexi-Complete software package, a $100 ASHP gift certificate and access to ASHP's PharmPrep Online.
The purpose of the Clinical Skills Competition is to increase pharmacy students' awareness of the importance of the pharmacist's role in direct patient care.