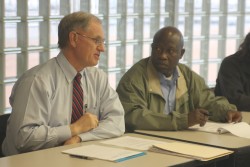 Ron Troyer chats with Charles Omagor.
A delegation of a half dozen educators from Makerere University School of Business (MUBS) in Uganda recently visited Drake for six days to explore opportunities for expanding collaborative programs.
Drake's partnership with MUBS began in 2007 when Associate Professor of Finance Jimmy Senteza organized Drake's first travel seminar in his native country. The seminar brought together faculty and students from Drake and MUBS to explore sustainable development and promote responsible global citizenship.
The course has proven to be so popular that it's been offered every year since 2007 and only a few openings remain for students interested in participating in the next seminar in May 2011. Students' first-hand accounts of the 2010 seminar are posted on a blog.
The MUBS delegates met with faculty and administrators across campus. They learned about Drake's registration process, libraries, student housing, human resources, student records and international programs. They also visited Pioneer Hi-Bred International's headquarters and attended a dinner hosted by Bankers Trust Co. President Suku Radia, who serves on Drake's Board of Trustees.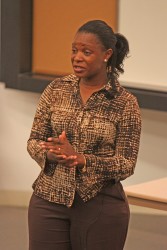 Diane Ntamu
Charles Omagor, dean of the Faculty of Commerce at MUBS, led the
delegation. The other delegates were Peter Odoki, Bosco Amerit, Pamela
Tusingwire, Sumayah Nakku and Diane Ntamu. Ҭ
Ntamu, director of the Entrepreneurship Center at MUBS, discussed
challenges and opportunities facing entrepreneurs around the world with
approximately 100 graduate students in Drake's College of Business and
Public Administration.
She plans to return to Drake next spring to team teach a one-credit
Entrepreneurship MBA seminar with Deb Bishop, associate professor of
practice and director of the Pappajohn Center for Entrepreneurship
Outreach and the Buchanan Center for Entrepreneurial Leadership.
In spring 2012, Eric Hall will become the first Drake student to study
at MUBS.
A junior history major from Des Moines, Hall will begin his
classes at MUBS at the start of the spring semester.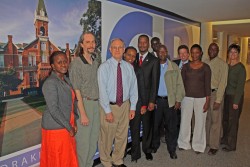 Drake faculty and staff pose with the Ugandan delegation from the Makerere University School of Business.
"I had a great time in Uganda during the three weeks I was there and
look forward to going back," said Hall. "I'm hoping to gain worldly
perspectives that differ from those in the United States and to make new
friends."
"The Ugandan delegation's visit was exceptionally successful, thanks to
the efforts of Drake faculty members Jimmy Senteza, Tom Root, Deb Bishop
and Glenn McKnight," said Ron Troyer, Drake's senior counselor for
international initiatives.
"We agreed to pursue appointment of Drake faculty as visiting professors
or fellows at MUBS," Troyer added. "In fact, the process has begun to
appoint two CBPA professors — Chip Miller and Deb Bishop — as visiting
faculty members at MUBS. We're also exploring the possibility of Drake
faculty supervising of MUBS doctoral students."
In addition, discussions are under way with Makerere University about
possible collaborations, especially with Drake's College of Arts and
Sciences.
"Much work remains to be done," Troyer said, "but there appear
to be a number of exciting possibilities."