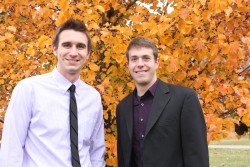 Jon McDonald, founder of Giraffe Creative, works alongside account director and fellow student Jim Davis, and a handful of other teammates.
Giraffe Creative, an innovative commercial advertising agency started by
Drake University students, aims to do more than make a profit.
Jon McDonald, a junior marketing and advertising double-major,
devised a business model that would not only help clients in their
advertising strategies, but would equally benefit students as future
professionals.
His desire to gain real-world experience and to be a competitive
applicant when searching for his first professional job, prompted him to
found Giraffe Creative last summer. The agency quickly appealed to other Drake students who
shared the same goals of building exemplary portfolios and resumes.
Almost six months later, with a passionate, committed team and an
influx of prospective clients, it seems there is no slowing down for the
rapidly flourishing student-run business.
"We hope to set Giraffe employees apart from other applicants in
their professional fields. The key idea has been about gaining
experience; when you're not solely out to make a profit, that changes
the perspective," said McDonald, a resident of Eagan, Minn.
McDonald shared his business model and idea with a friend and fellow
student, Jim Davis, after they met while studying abroad in Prague.
Davis, a senior marketing major with a minor in advertising, immediately
was intrigued by the uniqueness of the business and saw himself using
his skills to help it grow. He soon signed on as Giraffe Creative's
account director.
"What sets us apart from others is the amount of creative power we
have when it comes to big ideas that directly translate into results.
Our price point is competitive, honest, and the way I believe it should
be," said Davis, a resident of St. Charles, Ill.
Giraffe Creative is now successfully functioning as a team of nine
students and has generated a profit. "We are moving right along and are
on par with the semester goals we've set," McDonald said.
Both McDonald and Davis cite Drake faculty members Randy Blum,
Annette Watson, Dorothy Pisarski, and Carolyn Crowe, as sources of
guidance and assistance when they have questions about what steps to
take next.
"We want to make sure we are doing everything correctly now so that
we can continue to grow with control. It is important for us to do
things right the first time," said Davis.
The business now serves four clients with long-term marketing plans.
Its major clients are Bandit Burrito, the James Arthur Albert
Foundation, Elsmore Aquatic, and EGG the band.
Nick Cooper, the vice president of the James Arthur Albert
Foundation, has worked closely with Giraffe Creative in preparing for a
large-scale fundraiser, the Belize Dance Marathon, in April 2011.
"Giraffe Creative is now running our entire marketing campaign for
the dance marathon fundraiser, Cooper said. From the beginning, we have
been very happy with the work they have prepared for us. Even when
approached with a last minute design project, they did an awesome job."
The agency has found ways to appeal to many of Des Moines' smaller
businesses that are in need of effective marketing and advertising
strategies. "We have grown up with social media so that gives us a step
up. We provide the client with options and we do it quickly," said
McDonald.
Giraffe Creative is much more than a working business model with a
competitive edge. It is the culmination of the passion, talent and drive
of its team members to use the knowledge they gain as students in a
classroom and apply it professionally.
For more information about Giraffe Creative, contact Jon McDonald or Jim Davis at giraffecreative@gmail.com.