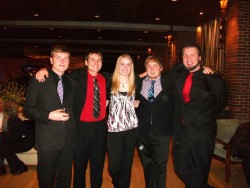 The Drake Jazz Ensemble One trombone section poses for a photo prior to their performance at Fred Turner's party.
For the second year in a row, Drake University's Jazz Ensemble One performed at a formal party hosted by Drake alumnus Fred Turner, retired senior chairman of McDonald's Corp.
Turner, who attended Drake from 1951 to 1953, received an honorary Doctor of Law degree from the University in 1983.
The ensemble, under the direction of Fred and Patty Turner Professor of Jazz Studies Andrew Classen, performed an eclectic concert for an audience of more than 100 people at McDonald's Hamburger University in Oak Brooke, Ill. The program featured compositions representative of a variety of jazz styles, including swing, funk, bebop and Latin.
Drake University President David Maxwell performed a guitar solo during a tune written by Classen and dedicated to Maxwell's late father. Guest artist Roger Ingram, a world-renowned trumpeter, also performed with the band.
Alto saxophonist Stella Hart, a junior music and English double major from Cedar Rapids, Iowa, said the band members were excited to perform at Turner's party again. "Mr. Turner's support of the program has been amazing," Hart said. "The concert gave the band a chance to express our appreciation, and it was great to be invited back for a second year."
Devin van Holsteijn, baritone saxophonist for the ensemble, agreed with Hart, saying that the event was a positive experience for everyone involved.
"From a business student standpoint, it was a great networking experience," said van Holsteijn, a sophomore music business major from Spencer, Iowa. "From the perspective of a musician, it was a lot of fun to play for such an enthusiastic and receptive audience."
"What's amazing about the party, beyond all of the wonderful food, is how attentive and appreciative the audience is," said Classen, whose position was endowed in 2008 by a $1 million contribution made by Turner to the University's jazz program. "The jazz band isn't background music, it's the featured element of the party. This elevates the band's performance and makes the event very special."
Fred Turner: a generous advocate for the Drake University jazz program
In addition to the endowed professorship, Turner has provided Drake's jazz program with a $1.5 million gift to build the Patty and Fred Turner Jazz Center, a 4,600-square-foot facility adjoining the Harmon Fine Arts Center. "¨
The building includes Patty's Place, a 70-seat jazz club/coffee bar named after Turner's late wife Patty, a Drake graduate; a state-of-the-art 40-channel recording studio for full band recordings; and a sound booth/isolation room for smaller-scale arrangements. "¨
Architect Daniel R. Sloan, FA'75, principal at Baldwin White Architects, designed the Turner Center with a focus on providing a comfortable space for practice, performing, recording and enjoying jazz.
"¨"¨"The Turner Jazz Center provides a teaching facility for the Drake jazz program, where students will be afforded the opportunity to play and record in a one-of-a-kind environment in the Des Moines area."
"It is so rewarding for all of us for Fred Turner to bring together his passion for Drake and his passion for jazz in his wonderful support of Drake's outstanding jazz program," said Drake President David Maxwell.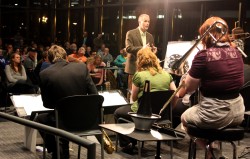 James Romain directs Drake Jazz Ensemble Two at the Turner Center premier concert.
New Turner Jazz Center will inspire jazz faculty, students and listeners for years to come
The Turner Center was completed just in time for Drake's Jazz Ensemble Two to move its Dec. 7 concert from the Performing Arts Hall to the new facility. The free, public concert drew such a large crowd that some audience members sat on the floor while others stood along the walls.
The ensemble, under the direction of Associate Professor of Saxophone and Jazz Studies James Romain, performed an eclectic program, featuring a wide variety of different jazz styles and genres and numerous student soloists. Photos of the event can be viewed online.
"Playing in the Turner Center was an incredible experience," said alto saxophonist Katie Stessman, a first-year music education major from Manning, Iowa. "We all came together last night for a love of music and jazz, and actually sitting on the stage in a beautiful, new center built for that sole purpose was so humbling to me. We are very lucky to have people who support us to have such a great place to learn and perform!"
Romain welcomed everyone to the new home of Drake's jazz program and pointed out the mural featuring photos of legendary jazz musicians. The mural, which dominates the top of the walls on either side of the stage, primarily features William P. Gottlieb's portraits documenting the Golden Age of Jazz in New York City and Washington, D.C. His photo collection, housed in the Library of Congress, came into the public domain earlier this year.
At Classen's request, the mural also includes a photo of Drake President David Maxwell's father, the late Jimmy Maxwell, a legendary trumpeter who was a member of the Benny Goodman Band and "The Tonight Show" band. Drake First Lady Maddy Maxwell provided the photo of her father-in-law, who also performed with the Count Basie and Duke Ellington orchestras, for the mural.
"The mural circles over the heads of performing students," says Dan Sloan, FA'75, of Baldwin White Architects. "It's like having the gods looking down on you."
As project architect, Sloan had one final and all-important question: Would a performance in the Turner Center be a success?
To him, the answer was a resounding, 'Yes.'
"It took but a few notes from the band to realize that it would be a special performance," Sloan said. "By design, the spirit and energy of the music was reflected by the architecture of the building without missing a beat. It was unconventional, edgy and confident. Based on many of the comments from more than 100 patrons who attended the performance, it was a successful evening and provided an opportunity to appreciate Mr. Turner's generosity and vision first-hand."
A gala concert and dedication of the Turner Center will be held during the spring semester.