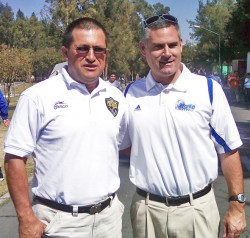 Chris Creighton, left, poses with Eduardo Martinez.
Drake University officials recently visited Mexico to explore
academic partnerships in advance of the Global Kilimanjaro Bowl that
will pit Drake against a Mexican all-star football team in Tanzania next
year.
Drake Athletic Director Sandy Hatfield Clubb, head football coach
Chris Creighton, Provost Michael Renner and Senior Counsel for
International Initiatives Ron Troyer met with officials from Tecnologico
de Monterrey in Monterrey, Mexico on Nov. 19-20.
Tec de Monterrey and its weekend rival, Universidad de las Americas
Puebla, will contribute players to the CONADEIP All-Stars team set to
play Drake on May 21, 2011, in the first American collegiate football
game on African soil.
Drake officials plan to use the Global Kilimanjaro Bowl as a
springboard for collaboration with Tec de Monterrey and UDLAP. Drake and
Tec de Monterrey are developing a Memorandum of Understanding that
outlines future partnerships.
"Their mission is closely aligned with Drake's, and they are fully
accredited in the U.S. system as a voluntary international participant,"
Renner said. "Many classes are taught in English, and there are
opportunities for many types of partnerships, including faculty and
student exchanges, research collaborations, conferences and joint
curriculum development."
While in Mexico, Hatfield Clubb and Creighton watched top-ranked
UDLAP defeat Tec de Monterrey in a 17-10 finish. Many of the stars in
the clash between UDLAP and Tec de Monterrey will be in opposition when
the Bulldogs line up in Africa.
"It was a privilege to witness the first ever CONADEIP football
championship," Hatfield Clubb said. "I was impressed with the level of
play, their commitment to collegiate athletics as well as their fan and
public support."
Coach Creighton was interviewed by ESPN about the Global Kilimanjaro
Bowl during halftime along with CONADEIP President Eduardo Martinez.
"This trip will bring our teams together in a special way and has
the potential to make a lasting impact on our player's lives," Creighton
said. "The physical play in the championship game was impressive along
with the CONADEIP players' size and skill sets. Witnessing the game gave
me much to think about and take back to the team."
The historic Global Kilimanjaro Bowl — to be held in Moshi,
Tanzania, under the shadows of Mount Kilimanjaro — has garnered
international attention and support.
Grant Teaff, executive director of the American Football Coaches
Association, told the chairman of the Tanzania National Sports Council
in a letter last week that he was happy to hear of the Global
Kilimanjaro Bowl and vouched for the event's organizer, Global Football.
"I am thrilled to know that your country of Tanzania will have the
chance to view this great game," Teaff told Col. Iddi Kipingu. "I am
sure your people will find this to be a fast-moving, exciting game that
they will find most interesting."
The trip will begin on May 17 and — following two practices, a
football clinic for local youth and a safari — the two teams will meet
on the field May 21.
After the historic game, players from both Drake and the CONADEIP
All-Stars will be doing community service projects in and around Moshi.
The primary project will be working at the Kitaa Hope Orphanage in Moshi
with children between 4 and 12 years old, while also constructing an
addition to the orphanage. ҬӬ
During the final phase of the trip, players and coaches from both
teams plan to climb the imposing 19,340-foot Mount Kilimanjaro — the
tallest mountain in Africa. The teams will ascend Mount Kilimanjaro by
different routes, culminating their climbs by meeting at the summit and
hoisting their respective university and national flags.