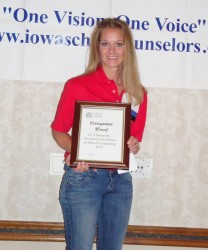 Careyanne Wood poses with her award.
When asked why she decided to go into counseling students, Drake alumna
Careyanne Wood responded, "I wanted to make a difference."
After the tragic death of a dear friend and co-worker, Wood noted
the lack in available counseling support. This later inspired her to
improve the counseling services provided to students.
After receiving her bachelor's degree in elementary education from
Ashford University, Wood graduated from Drake's School of Education with
a Master of Science in Counseling earlier this year.
She works as a K-12 counselor for the Preston School District in
eastern Iowa and serves about 360 students. She also is preparing to
take the Commission on Rehabilitation Counselor Certification exam next
summer to become a licensed Mental Health Professional.
David J. Miller, principal of Preston High School, took note of
Wood's impact on the school district and nominated her for the John L.
Thompson Award for Excellence in School Counseling.
"She works really hard and is very positive," Miller said.
"Careyanne has a knack for getting along with the students and the
parents as well. She's done a great job."
Among other contributions, Wood began a before-school program
started to improve students' ACT scores. "She doesn't live in town and
she has two young kids, but she still came in early twice a week to
conduct the eight-week program," Miller said. "We held the program three
to four times throughout the school year."
Wood was presented with the award at the annual Iowa School
Counselor Association (ISCA) conference on Nov. 9 at the Airport Holiday
Inn in Des Moines. The award included an honorarium of $300 for Wood to
use at her discretion as a counselor and an award of $300 for the
school to purchase materials for the counseling program.
Wood recognized how Drake University has helped in her career. "I
believe my education at Drake has put me above others in my field," said
Wood. "My mental health education has really allowed me to help
families in proper referrals toward a diagnosis, assist teachers in how
to help students who have a mental health diagnosis and be more mindful
of disability laws for students with special needs."
Two Drake professors in particular influenced Wood's Drake
education. "Dr. Bob Stensrud really challenged me to stretch myself in
order to grow and learn," recalls Wood. "Tracy Keninger's Disability Law
class also resonated with me. She reminded me of how strong I can be
and how to show strength when others are not able to advocate for
themselves."
The John L. Thompson Award for Excellence in School Counseling was
created to recognize school counselors who have developed exemplary
programs, in effect for at least two years, designed to help students
grow in academic and life skills.
The family of John L. Thompson is funding the award as a tribute to
him and his vision as director of guidance and counseling and students
at risk at Heartland Area Education Agency, his service to the Iowa
Counseling Association and his mentoring of counseling practicum
students as an adjunct professor at Iowa State University.