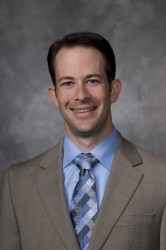 Matthew Mitchell
Matthew Mitchell, assistant professor of international business at Drake University, will present "Profits and Prophets: Doing Business Across Religious Borders" at noon Tuesday, Dec. 7, as part of the Pioneer-Iowa Council for International Understanding Dialogue Series.
The presentation, which is free and open to the public, will take place in the conference room of the Des Moines Central Public Library, 1000 Grand Ave. Attendees are welcome to bring their own lunches.
Mitchell will highlight the risks and rewards of doing business in a world that has experienced a spiritual renaissance in the last two decades, placing religion nearer the center of politics and economics.
He also will talk about some of his interviews with prominent business executives and religious clerics in Egypt, Israel, Sweden and the United States.
Mitchell, who has lived, worked and traveled in more than 55 countries, earned his Ph.D. in International Business from the University of South Carolina. His research focuses on the intersection of international business, culture and political economy. He has written numerous conference papers, book chapters and journal articles on the topic.
The dialogue is sponsored by the Iowa Council for International Understanding, Pioneer Hi-Bred International Inc., the Drake Center for Global Citizenship, the Greater Des Moines Partnership and the Des Moines Public Library.
For more information, call 515-282-8269.