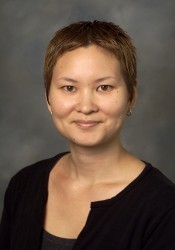 Jennifer Perrine
Jennifer Perrine, assistant professor of English at Drake University, recently was awarded the 2010 Agha Shahid Ali Prize in Poetry for her latest collection of poems, "In the Human Zoo."
The prize, named in memory of poet and educator Agha Shahid Ali, is awarded annually and is sponsored by the University of Utah Press and the University of Utah Department of English.
Perrine will receive a $1,000 cash prize and the University of Utah Press will publish her book in the spring of 2011; she will also give a reading during the University of Utah's Guest Writers Series next year.
"I was really excited to receive this prize," said Perrine, who also serves as director of Drake's Writers and Critics Series. "I've been working on this collection since 2006 and sending out different versions of the book before settling on this final version. When I heard back from the University of Utah Press, it was exciting to know that the editors found the book worthy of publication, especially because some of the poems are about difficult, uncomfortable topics, including domestic trauma and historical violence."
Perrine's book was selected for the prize by Anne Winters, professor emerita of poetry at the University of Illinois at Chicago.
"Jennifer Perrine's poems, saturated in taut emotion and even in overt violence, are yet cooled, disciplined by rigorous rendering, carefully evoked locations and descriptions," Winters said. "Perrine is a deeply committed poet, intelligent, intense and perceptive of the minutiae of inner and outer human trauma."
On Wednesday, Dec. 8, Perrine shared selected poems from "In the Human Zoo" at Drake's Poetry Workshop Reading.
Perrine earned her bachelor's degree from Susquehanna University, her master's degree from Bucknell University and her doctorate from Florida State University. While at Florida State, she taught writing courses and served as poetry editor for The Southeast Review.
Her first book of poetry, "The Body is No Machine," was published in 2007 and received the Devil's Kitchen Reading Award in Poetry.