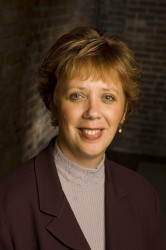 Raylene Rospond
Raylene Rospond, dean of Drake University's College of Pharmacy and Health Sciences, is featured in an article in the latest issue of Des Moines Woman magazine, which is published by the Des Moines Register. The article focuses on her success in balancing her professional and personal life. "¨"¨
Work-life balance has long been important to Rospond, a native of Indianola, Iowa. While attending Creighton University, Rospond changed her undergraduate path from pre-med to pharmacy after her father pointed out that hospital rotations would not provide the opportunity for the family life she had envisioned. ҬӬ
After graduating from Creighton, she earned her Doctor of Pharmacy degree at the University of Texas Health Science Center in San Antonio. Her academic career began when her husband, also a pharmacist, relocated to Omaha, Neb, for a new position. ҬӬ
She started as an assistant professor at Creighton University and was later named assistant dean. Rospond and her family moved to Des Moines in 1997 and she joined Drake as associate dean, becoming dean in 2003. ҬӬ
Each career move has been at an intersection of developing new skills and opportunity to use them, Rospond told the Register. She added that she's gained confidence and leadership roles by asking for new responsibilities and experiences such as attending Harvard University's program for higher education leaders. "¨"¨
Drake University started a new program about work-life balance this fall. It began with a survey of faculty and staff that drew more than 400 responses. In a recent e-mail message to faculty and staff, Drake President David Maxwell said he hopes the campus community will consider the ways in which "our culture both positively and negatively impacts our ability to achieve the professional and personal results that we desire." "¨"¨
To catalyze that discussion, Maxwell invited all faculty and staff to participate in a campus-wide book read of "The Way We're Working Isn't Working: The Four Forgotten Needs That Energize Great Performance" by Tony Schwartz. The program will begin in January 2011.
"¨"¨"Whether the issue is how to free up more time for creative and scholarly endeavors, or how we might further advance our efforts to promote personal health and wellness, " Maxwell said, "this book can serve to get us all thinking about ways in which we might be more effective over the long term." "¨"¨
With each new challenge and opportunity that arises for Rospond, she spends time reflecting on how it will impact her family and ability to do her job. She has been married to her husband, Scott, for 25 years and is a mother of four. Her children range from a 14-year-old traveling soccer-player to a 22-year-old pursuing an MBA.
"¨"¨"The more you try to do, the more you try to balance, the more important it is," she told the Register. "¨"¨"You have to decide what are going to be the most important things to you," she added. "You always have to keep reflecting and figuring it out." "¨"¨
Read the entire article on the Des Moines Register website.