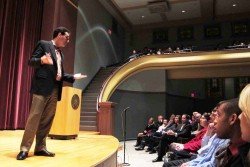 Daniel Pink engages in a question-and-answer session.
Approximately 300 local business leaders recently paid $89 each for
tickets to hear author Daniel Pink present a Dec. 2 keynote address at
Drake on his bestselling book "Drive: The Surprising Truth About What
Motivates Us."
Nearly 750 Drake students, faculty and staff took advantage of the
opportunity to see Pink give the same presentation on Dec. 1 at no
charge.
At least two-thirds of the audience that filled Sheslow Auditorium
was made up of students, including members of the Donald V. Adams
Academy and others who were offered credit for attending the lecture.
View an online photo gallery of Pink's visit to Drake.
Before Pink took the stage, Drake Director of Student Leadership
Jan Wise announced the winners of a contest organized by the Student
Senate in response to Pink's book, which encourages individuals and
organizations to create their own motivational posters.
The contest drew 17 entries, with the Curling Club winning first
place and a $75 Sodexo gift certificate for its poster featuring a photo of John Bannister, the first man to run a mile in less than four minutes. The poster proclaimed "In 4 minutes he did the impossible. How long will it take you?" Carpenter Hall received a
$50 Sodexo gift certificate for its second-place poster showing a turtle
with the headline "Taking Chances: Behold the turtle. For he makes no
progress unless he sticks out his neck."
Wise then announced that Drake President David Maxwell would be
celebrating his birthday the next day and led the audience in singing
"Happy Birthday" to him.
President Maxwell took the stage, thanked the audience for serenading
him and welcomed everyone to what he described as "a family affair" for
the Drake community. He also said Pink's visit to the campus reflects
the University's commitment to providing both an exceptional learning
environment and leadership education, including a new leadership
concentration for undergraduates.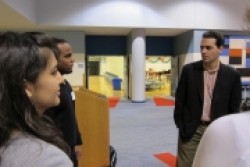 Daniel Pink chats with student leaders before having dinner with them.
Twenty leaders of various student organizations were invited to join
Pink for dinner in the Drake Room at Olmsted Center before his lecture.
"He actually listened to us and was very interested in how much
collaboration goes on at Drake among students and faculty," said Kyle
Glaser, a junior radio-TV major from Junction City, Kan., who is a
residence assistant and digital editor of the Times-Delphic.
"He talked to us about the challenges we'll face in the workforce
— working in groups and motivating other people. For me, personally,
Daniel Pink has provided me with a train of thought to help me motivate
myself."
In his lecture, Pink debunked the conventional wisdom that the
best way to motivate people is with external rewards such as money, what
he described as the carrot-and-stick approach.
While that approach may have worked in the past, Pink said it's the wrong way to motivate people to tackle today's challenges.
He cited several studies from four decades of scientific research
on human motivation and explained the three elements of true motivation
— autonomy, mastery and purpose.
These elements, he added, are the keys to high performance and
satisfaction — at work, at school and at home — because they tap into
the deeply human need to direct our own lives, to learn and create new
things, and to do better by ourselves and the world.
He then gave examples of companies such as Google, Netflix and
Zappos.com that are embracing these new approaches to motivation and
making extraordinary gains in productivity and innovation.
These include "Twenty percent time," a program that enables
employees to spend 20 percent of their time working on whatever projects
they desire, as long as they are not associated with their regular
work. Some companies call these "FedEx Days," because each employee has
to deliver an idea by the next day.
Pink said he'd like to see "FedEx Days" at colleges and
universities. "Why not try it here," he added, "and see what ideas students, faculty
and staff come up with to make Drake a better place to go to school?"