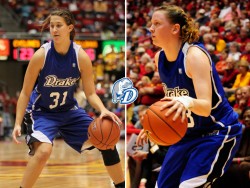 Basketball standouts earn conference honors
Drake basketball players from the men's and women's teams have garnered individual conference honors this season.



Drake senior Kristin Turk (Des Moines, Iowa) and freshman Angela
Christianson (Alexandria, Minn.) earned Missouri Valley Conference
Women's Basketball Player and Newcomer of the Week honors, respectively,
for the week of Nov. 29 – Dec. 5, the conference announced Monday.



No Drake tandem has swept the MVC weekly awards since Jordann
Plummer (2005-10) and Jill Martin (2003-08) did so on Feb. 6, 2006.



Additionally, Turk becomes the first Drake performer to win
back-to-back awards since Martin did it on Feb. 27 and March 6, 2006.
Turk was named the conference player of the week for Nov. 22-28.



Turk led Drake to a 2-0 record and a Hilton Garden Inn Northern
Arizona Thanksgiving Tournament championship on Nov. 27. She led all
tournament participants with 42 total points on the weekend and earned
Tournament MVP honors for her efforts.



Turk turned in what might have been the statistical game of her
career Nov. 30, helping to propel the Bulldogs to a 82-67 non-conference
win over visiting North Texas. She had a season-high 24 points on
9-of-15 shooting.



"Kristin is so excited out there when she's playing and she really
wants the team to be good," Drake Head Coach Amy Stephens said of Turk's
performance. "She plays with so much enthusiasm and energy. If we could
bottle that up and drink it, we sure would."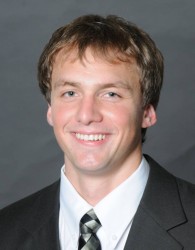 Drake senior guard Ryan Wedel was one of two players selected as the
Prairie Farms/Missouri Valley Conference Scholar-Athletes of the Week
for Nov. 8-14.
Wedel, who shared the honor with Alicia Runge from the Creighton
volleyball team, collected 20 points and matched his single-game
career-best with six three-pointers in a 60-46 win over Texas Southern
on Nov. 13.
Wedel has a 3.31 cumulative grade-point average in management and marketing.



"Ryan is our rock and showed that tonight," Drake Head Basketball
Coach Mark Phelps said after a Nov. 13 season-opening victory. "He had a
great floor game and our guys fed off of him."



In women's basketball, the Bulldogs had a 5-2 record, coming off of
four straight wins, as of Dec. 7. The men's team had a record of 2-4.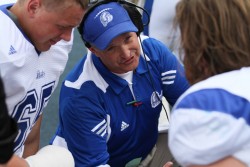 Rick Fox
Drake's Fox named football championship subdivision assistant coach of the year
Drake assistant offensive line and special teams coordinator Rick Fox
has been named the Football Championship Subdivision Assistant Coach of
the Year by the American Football Coaches Association.
Each year the AFCA honors one assistant coach from the five
divisions of college football for their dedication to their teams and
communities.
The Assistant Coach of the Year award was created in 1997 to honor
assistant coaches who excel in community service, commitment to the
student-athlete, on field coaching success and AFCA professional
organization involvement.
Fox is in his 25th year of coaching and has spent the last three years at Drake as assistant head coach under Chris Creighton.
Fox coordinates the community service efforts of the Drake football
team and has established a year-round program whereby community service
captains are chosen to help lead the events and programs.
He also encourages football players to participate in Meals from the
Heartland, where they package food to be sent off to impoverished areas
around the world.
Fox helps host a Special Olympics event at Drake each May, and takes
football players to visit Blank Children's Hospital, local Boys and
Girls Clubs, and the Wilkie House, which is an after-school program for
Des Moines youth.
As special teams coordinator and offensive line coach at Drake, Fox
has coached two all-conference punters, two all-conference kickers and
five all-conference linemen. Since 2000, he has coached an
all-conference punter every year except two.
As offensive coordinator at Centre from 1999-2007, Fox produced 50 all-conference players and two offensive players of the year.
Fox will be recognized at the 2011 AFCA Convention Jan. 10 in Dallas, Texas.
Other assistant coaches who were honored were:

Football Bowl Subdivision – Luke Fickell, Ohio State
Division II – Joe Lorig, Central Washington
Division III – Chris Rusiewicz, Ursinus
NAIA – Doug Schleeman, Montana Tech
Men's, women's soccer teams earn academic honors "¨"¨
The Drake men's and women's soccer teams were honored for their academic successes by the National Soccer Coaches Association of America this year.
ҬӬThe organization named both teams as a College Team Academic Award Winner for 2010. Both teams had a grade point average above 3.0 on a maximum 4-point scale.
"¨"¨The men's team was honored for its sixth consecutive campaign and seventh overall for maintaining a team grade point average of 3.03 for the 2009-10 academic year. The Bulldogs were one of 194 men's programs across all levels of collegiate soccer to be recognized across the country. "¨"¨
"I'm excited every time we get an accolade, our goal for the program is always to demonstrate excellence on the field, but, more importantly, in the classroom and this award is an endorsement of that," Drake head coach Sean Holmes said. "¨"¨
The women's team was honored for the eighth consecutive campaign for maintaining a team grade point average of 3.47 for the current academic year. The team was one of 436 women's programs across all levels of collegiate soccer to be recognized across the country. "¨"¨
"Throughout the last academic year, our players chose to make the most of their academic experience," Drake head coach Lindsey Horner said. "Earning a 3.47 team grade point average is an impressive accomplishment and is indicative of our player's hard work and dedication in the classroom." "¨"¨
In addition, three members of the men's squad and two members of the women's squad were selected to the All-Missouri Valley Conference Scholar-Athlete team in recognition of stellar performances on and off the field. "¨"¨
On the men's team, senior Nick Foster (West Des Moines, Iowa/Valley) and juniors Hunter Kennedy (Cedar Rapids, Iowa/Cedar Rapids Kennedy) and Thomas Ostrander (Fort Dodge, Iowa/St. Edmond Catholic) garnered All-Missouri Valley Conference Men's Soccer Scholar-Athlete accolades when the league announced its annual plaudits. "¨"¨
On the women's team, sophomore Laura Moklestad (Des Moines, Iowa/Roosevelt) and senior Katie Anderson (Naperville, Ill./Naperville North) were tabbed to the first and honorable mention teams, respectively. "¨"¨
Foster, Kennedy, Ostrander, Moklestad and Anderson all earned higher than a 3.5 grade point average for the 2009-10 academic year to qualify for the conference teams.