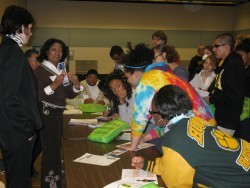 Emily Proctor of Iowa Health System and Jacqueline Easley of Mercy Medical Center share information with students about careers in health care.
College Prep Day drew a record 140 high school students from the Des Moines area to the Drake campus on Saturday, Nov. 6. ҬӬ
College Prep Day is an educational initiative of the Youth Council of the NAACP. ҬӬ
Since 2004, Drake's Admission Office and the Iowa College Student Aid Commission have partnered with the Youth Council to offer this outreach program to high school students and parents as a resource to explore college options and the college search process.
"¨"¨"The record attendance of 140 high school students and 37 parents is a reflection of the dedication and hard work of many people from various organizations united to offer assistance, advice and encouragement to local high school students," said Deneen Dygert, Drake associate director of admission.
Sessions covered career and college search processes ҬӬ
The daylong event included concurrent, grade-level sessions for high school students, as well as parents, about career and college search processes. ҬӬ
The response from high school students was quite positive. For example, Khalil Adams, a sophomore at Des Moines Roosevelt, summed up his experience by saying, "I learned what I need to do now to be successful later in high school and college." "¨"¨
College Prep Day also included a college fair featuring 12 Iowa colleges and universities. Students also learned about career possibilities at a Career Fair, which included representatives from Bankers Trust Co., Iowa Health System, the Des Moines Police Department, MidAmerican Energy Co. and Mercy Medical Center. ҬӬ
Panel discussions focused on concerns of parents, students

ҬӬA panel, moderated by Drake English professor Melisa Klimaszweski, answered questions from parents on topics such as how to help their children prepare for and adjust to college life. ҬӬ
Victor Cedeno, a Drake senior and admission fellow, moderated a student panel, which included Eric Hall, a Drake sophomore and former president of the NAACP Youth Council, as well as four students from other colleges and schools. ҬӬ
High school freshmen and sophomores attended two sessions offered by Iowa College Network. First, a "KnowHowToGo" program provided specific step-by-step directions on how to prepare for college. Freshmen and sophomores also participated in a Life Store activity, which engaged students in real-life decisions regarding budget, costs of living expenses and life-style priorities. "¨"¨
All participants gathered for a lunch featuring motivational speaker Frank Bell. He inspired students and parents with his message about the benefits of higher education. ҬӬ
Three scholarships awarded to attendees ҬӬ
Seniors registering for College Prep Day were invited to apply for scholarships. The Youth Council awarded two $500 scholarships and Iowa Health System awarded one $1,000 renewable scholarship to a senior pursuing studies in a health-care field. In addition, Target Corp. donated $500 toward the event.
"¨"¨"College Prep Day 2010 was awesome," said Gretchen Woods, adviser of the Youth Council of the NAACP. "The NAACP thanks Drake University, Iowa College Student Aid Commission, Iowa Health System and Target for their sponsorship.
"¨"¨"This was our biggest and best year thus far," Woods added. "With such tremendous support, we expect to maintain the same standard next year. We invite other businesses and corporations to contact us regarding ways they can partner with such a great program." "¨"¨
Woods can be reached at 515-254-1947.