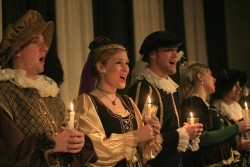 Entertainment will feature the Drake Chamber Choir, strolling minstrels, jugglers and dancers.
Drake University's Christmas Madrigal Dinners, which recreate Elizabethan yuletide through music, dance and food, will be held at 7 p.m. on Saturday, Dec. 4, and Sunday, Dec. 5.
The evening will feature a decadent Renaissance feast with wine and Cornish game hen, garlic mashed potatoes, spinach salad, baked apple, scones, wassail and figgy pudding, which is presented in a flaming fashion. Vegetarian meals are also available.
While audience members enjoy the six-course feast, they will be serenaded by the Drake Chamber Choir and entertained by strolling minstrels, jugglers and dancers.
Tickets, which cost $50, are available by calling the Drake Fine Arts Box Office at 515-271-3841.
For more information, contact Aimee Beckmann-Collier, professor of conducting, at 515-271-2841 or aimee.beckman-collier@drake.edu.