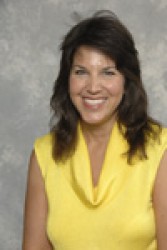 Dr. Jill Sudak-Allison
While the holidays are supposed to bring joy and happiness, many of us end up feeling overwhelmed and overextended. "The unrealistic expectation that we need to do it well often leads to holiday stress,"says Jill Sudak-Allison, Ph.D., LMHC, LMFT, Mental Health Therapist at Mercy Weight Loss & Nutrition Center. Stress can also rise because we feel a loss of control over things such as time, finances, eating, and drinking.

"To regain control and have a happy holiday season, we have to learn how to set boundries, say 'no' without feeling guilty, and – most important -change our own expectations," Dr. Sudak-Allison says.
She suggests these coping strategies:

* Take care of yourself before taking care of others.

* Realize there is no such thing as the perfect meal, party, outfit, gift, or family.

* Do only those things that really matter to you.

* Don't force yourself to keep up with others. Set a holiday budget and stick to it.

* Do something for someone in need.

* Develop holiday traditions specific to your immediate family. Don't be afraid to break from your childhood traditions.

* Plan ahead so you'll be prepared to cope with uncomfortable family situations.

* Enjoy the present moment and let go of the rest.