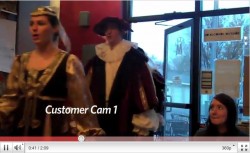 A surprised onlooker watches as costumed minstrels from Drake Choir enter Mars Cafe during Tuesday's flash mob promotion.
Video of a flash mob event by Drake choral students in promotion of their annual Madrigal Dinners has garnered hundreds of views online and sparked attention from local news media.
A dozen students, most of them adorned in full royal regalia, descended on Mars Cafe in Des Moines on Tuesday night and spontaneously broke into song. A handful of video cameras caught the flash mob performance of "Here We Come A'Wassailing," complete with surprised reactions from customers and employees. The video had more than 700 views as of Thursday morning.
The Des Moines Register's Sophia Ahmad published an Entertainment Blog post about the flash mob, and a witness to the event posted a 30-second clip on YouTube.
Drake's Madrigal Dinners, which recreate Elizabethan yuletide through music, dance and food, will be held at 7 p.m. on Saturday, Dec. 4, and Sunday, Dec. 5.
This year's dinners will feature a decadent Renaissance feast with wine and Cornish game hen, garlic mashed potatoes, spinach salad, baked apple, scones, wassail and figgy pudding, which is presented in a flaming fashion. Vegetarian meals are also available. "¨"¨
While they enjoy the six-course feast, the audience will be serenaded by the Drake Chamber Choir and entertained by strolling minstrels, jugglers and dancers. ҬӬ
Tickets, which cost $50, are available from Monday, Nov. 8, through Nov. 23 by calling the Drake Fine Arts Box Office at 515-271-3841.
ҬӬFor more information, contact Aimee Beckmann-Collier, professor of conducting, at 515-271-2841 or aimee.beckman-collier@drake.edu.