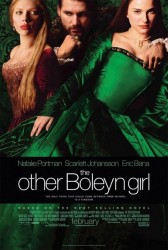 "The Other Boleyn Girl," a dramatic film about love, royalty and family,
will be shown as part of the fall Drake International Film Series on
Thursday, Nov. 11.
Free and open to the public, the screening will begin at 8 p.m. in Bulldog Theater, Olmsted Center, 2875 University Ave.
Filmed in England, "The Other Boleyn Girl," tells the tale of a
forbidden romance involving two sisters and King Henry VIII. The film
features an award-winning cast that includes Scarlett Johansson, Natalie
Portman and Eric Bana. It has grossed more than $25 million since its
release in February 2008.
The series is co-sponsored by Drake's Center for Global Citizenship (CGC) and the Drake International Student Association.
For more information, contact Darcie Vandegrift, director of the CGC, at 515-271-2840 or darcie.vandegrift@drake.edu.