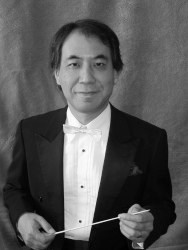 Akira Mori
The Drake Symphony Orchestra, under the direction of Akira Mori, conductor, will perform its first concert of the fall semester on Sunday, Oct. 31.
Free and open to the public, the concert will start at 8 p.m. on the Jordan Stage in Sheslow Auditorium in Old Main, 2507 University Ave.
Nicholas Roth, associate professor of piano at Drake, will join the ensemble to perform Edvard Grieg's Piano Concerto in A Minor.
Roth, who came to Drake in 2003, earned his master's degree from Indiana University and his doctorate from Michigan State University. He also received an artist diploma from the Hochschule fur Musik in Munich.
Roth has performed as a soloist with the St. Louis Symphony and the Indianapolis Symphony. He has been featured in recital series and festivals throughout the United States, Mexico, Germany and Spain.
The orchestra will also perform Johannes Brahms' Symphony No. 1.
"The Brahms Symphony is one of the most difficult pieces the orchestra has played since I arrived at Drake," Mori said. "It is a big challenge for the students, but they are doing very well with it. The orchestra members enjoy big challenges!"
Mori has conducted worldwide, including the Tokyo Symphony, Kiev National Orchestra, Minnesota Orchestra, and most recently, the English Chamber Orchestra in London. He is active in teaching and has been a professor and conductor at Indiana University, the University of Minnesota and Louisiana State University.
He received his bachelor's degree in flute performance from the New England Conservatory and his master's degree in orchestral conducting from Indiana University.
For more information, contact the Music Department at 515-271-3975.