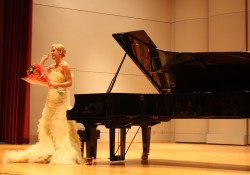 Olga Kern addresses the audience filling Sheslow Auditorium.
A magnificent performance by Russian virtuoso pianist Olga Kern on Oct. 11 culminated in the announcement of a new partnership between Drake University and Kern's sponsor, Yamaha Corporation of America.
Yamaha, the world's largest manufacturer of a full line of musical instruments, offered Drake officials the opportunity to buy nearly 70 pianos at a substantial cost discount. The company also named Nicholas Roth, associate professor of piano at Drake, a Yamaha Artist in Education.
Mark Barrett, regional representative of Yamaha Corporation of America, made the announcements following intermission of Kern's performance in Sheslow Auditorium.
"The partnership with Yamaha and selection of Nicholas Roth as a Yamaha Artist in Education demonstrates our clear commitment to providing our students with an exceptional learning environment and the recognition of the superlative quality of our faculty," said Joe Lenz, dean of the College of Arts and Sciences.


Kern's performance draws standing ovation
Kern, winner of the Gold Medal at the 2001 Van Cliburn International Piano Competition, played nearly two hours on the world's only Yamaha CFX Grand Piano, which debuted earlier this year to rave reviews for its revolutionary sonorous clarity and extensive tonal range. The piano was delivered to Drake on Monday afternoon, and set up and tuned by a Yamaha technician prior to the concert.
Kern's program featured the Haydn Sonata No. 48 in C major, followed by the Schumann "Carnaval," Op. 9, the Rachmaninoff Sonata No. 2 and "Islamey (Oriental Fantasy)" by Mily Balakirev.
The explosive and dynamic performance drew a standing ovation from a full crowd in Sheslow Auditorium. View an online gallery of photos of the concert and reception that followed in Levitt Hall.
"The extraordinary audience turnout is testimony to the strong community support for events of this caliber," Roth said. "It was especially gratifying to see such a large number of students in attendance. It is so important for young people to experience high-level artistry like last night's performance. As music educators, one of our most fervent wishes is to build a future audience for the fine arts."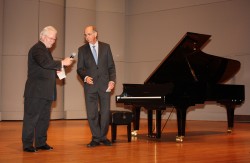 Mark Barrett, left, and Joe Lenz announce the new partnership between Yamaha and Drake.
Partnership enables Drake to buy new pianos at a discount
Yamaha Corp. of America has offered discounts to Drake University to buy as many as 68 pianos for the music department.
Drake officials are seeking gifts and pledges to finance the purchase of new pianos as part of the distinctlyDrake fundraising campaign. The pianos will be purchased on a pay-as-you-go basis through a partnership with West Music, a Coralville-based company that sells pianos across Iowa.
Joe Lenz, dean of the College of Arts and Sciences, told the recital audience that the average manufacture date of the pianos in Drake's Music Department is 1960, with many of them being much older than that.
"Many of you, having studied music at Drake, will have rehearsed on these pianos. Then, your children who came to study at Drake would have used these same pianos," Lenz said.
"Upgrading the overall quality of the instruments will have considerable impact on the quality of music education at Drake. We want our students to have the best possible learning experience — whether they are practicing or performing."
Individuals or businesses interested in helping to fund the purchase of new pianos should contact Doug Lampe, major gift officer for the College of Arts and Sciences, at 515-271-3055 or doug.lampe@drake.edu.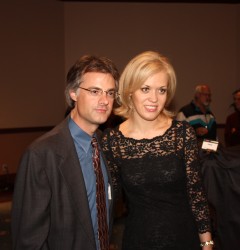 Nicholas Roth and Olga Kern at the reception following her performance.
Nicholas Roth: Yamaha Artist in Education



Professor Roth, a pianist who began his studies at age 12 and was receiving
critical acclaim for performances by the age of 18, has been teaching
music at Drake since 1993. He's been featured in recitals and festivals
in the United States, Canada, Mexico, Germany, Serbia and Spain.
Roth holds a Doctor of Musical Arts degree from Michigan State
University, an Artist Diploma from the Hochschule für Musik in Munich,
Germany, and master's and bachelor's degrees from Indiana University, where he
was the recipient of the Jacobs School of Music's highest honors,
including the Performer's Certificate and the Joseph Battista Memorial
Scholarship.
"I am humbled by the honor of being named an Artist in Education by
Yamaha Corporation of America," Roth said.
"Inclusion in this very
select group of musicians represents a strong endorsement of my work as
an educator and performer. The Artist in Education program provides
invaluable opportunities for concerts, master classes, recordings and
other professional assistance that is essential to career development. "