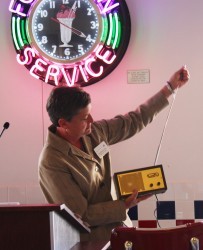 Maryfrances Evans, executive director of IRIS, displays a radio her organization provides to the visually-impaired at no cost.
"¨Students in associate professor Lori Blachford's journalism class are helping visually-impaired people to get access to local news through a new project at Drake.
"¨About 60 students in Blachford's "Media Responsibility Over Time" course read and record stories from a western-Iowa newspaper. The stories are then broadcast on the radio, at 5 and 11 p.m. Monday through Friday, on the Iowa Radio Reading Information Service.
The free service provides content from Iowa newspapers, magazines and other publications. Drake started recording articles from the Council Bluffs Daily Nonpareil on Tuesday, Sept. 7.ӬӬ
"This is a great service learning project," said Blachford, the Peggy Fisher and Larry Stelter Chair of Magazine Journalism. "Students not only practice journalism skills, like voice work and news judgment, but also experience first-hand the impact of local news. This service allows listeners to be active and informed members of their communities."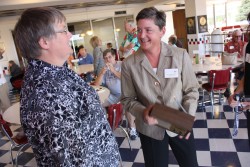 Lori Blachford, the Peggy Fisher and Larry Stelter Chair of Magazine Journalism and Maryfrances Evans, executive director of Iowa Radio Reading and Information Service
IRIS is a private nonprofit organization that serves 2,000 listeners in Iowa. Formed in 1972, they're Iowa's first and only radio reading service. The diverse listening population includes those who are blind, elderly and diabetic. Users are given a special pre-tuned radio receiver that broadcasts 24 hours a day to a frequency customized by region. They can also listen to streaming audio on the Internet and download recordings to various electronic devices."¨
The new reading service at Drake garnered attention from Radio Iowa, the Council Bluffs Daily Nonpareil and the University's student newspaper, the Times-Delphic. An audio recording of sophomore Emma Collins reading the Nonpareil's story about the project is available at this link.
"Helping someone I do not know be active in their community and aware of their world through my service is extremely rewarding," said sophomore broadcast news major Katherine Fritcke.
Tawna Bissell, a senior English writing and sociology major who has been serving as project leader, said: "We will need students on campus to participate in the program. We want the project to be able to continue well beyond the J-66 class."