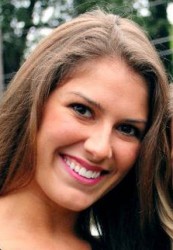 Drake senior Lauren Ford, of Kansas City, Kan., is one of 23 students nationwide to receive an Actuarial Diversity Scholarship from The Actuarial Foundation. The nonprofit group rewards academic achievements by students who are considering the actuarial profession.
Ford, an actuarial science and accounting major, was awarded $3,000 for her studies. She provided an actuarial examination record, transcript, recommendations from employers and a personal essay among her application materials.
Ford said her faculty adviser, Rahul Parsa, encouraged her to apply and guided her through the application process.
"I was very appreciative and excited when I learned that I had won," Ford said. "Not only does the financial support help me immensely with the actuarial examination process, but it is always nice to know that someone else is encouraging me to do what I want to do."
After graduation, Ford hopes to practice actuarial science for a property and casualty company or consulting firm. She said her coursework in the College of Business and Public Administration, paired with leadership skills honed while serving as president of the Alpha Phi sorority and a member of the provost's Peer Advisory Board, have prepared her for the future.
"The faculty members dedicate so much of their time to not only prepare students academically, but also to prepare them for interviews, internships and full-time positions," Ford said. "My various leadership opportunities here have taught me so much about communicating effectively, planning appropriately to accomplish goals and staying humble and grounded."
Bob Conger, chairman of the Actuarial Diversity Scholarship committee, praised Ford for her exceptional qualities, accomplishments and aspirations.
"¨"The actuarial profession has continuing needs and tremendous opportunities for people of this caliber," Conger added. "Particularly students with demonstrated mathematical, statistical, business and problem-solving capabilities and interests."