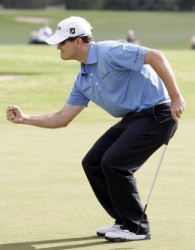 Zach Johnson
Professional golfer Zach Johnson, BN'98, has designated the donation of $50,000 to Drake University to enhance the University's Play Golf America University program.
The program is designed to teach and engage students in the game of golf through PGA professional instruction. It's been held every semester at Drake since spring 2007.
Johnson, a native of Cedar Rapids, Iowa, announced this fall's $50,000 gift as part of $2.6 million in donations made by the PGA on behalf of players on the U.S. Ryder Cup team.
"This gift, in addition to the $100,000 gift that Zach designated the PGA of America give us, will impact hundreds of Drake University students in that we will introduce them to the game of golf as well as the various ways in which golf is used as a business tool," said Michael Cigelman, associate director of athletics and director of recreational services.
Johnson and each U.S. Ryder Cup Team participant, including captain Corey Pavin, designated donations of $100,000 to charities. Donations included $50,000 to the college or university of their choice for Play Golf America University programming and $50,000 to the Ryder Cup Junior Golf Academy.
The academy is scheduled for a summer launch in 2011 to benefit aspiring junior golfers who otherwise would not have the opportunity to receive PGA professional instruction.
PGA officials said more than $15 million has been donated on behalf of the Ryder Cup team and captain since the Ryder Cup Outreach Program began in 1999. To date, PGA professionals have provided instruction to more than 29,000 college students through this program.
Johnson won his singles match Monday against the European Ryder Cup team's Padraig Harrington. The Europeans beat the American team 14.5 to 13.5.