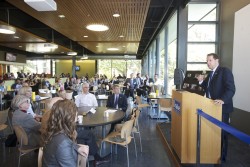 President David Maxwell speaks at the Hubbell North renovation ceremony.
A $5 million renovation has transformed vacant, outdated rooms on the
north side of Hubbell Dining Hall into a contemporary student hangout
offering myriad opportunities for dining, socializing and recreation.
First proposed by the Student Senate in 2006, the renovation
completed over the summer incorporates students' suggestions for new
dining options on the upper level. These include a grill and stations
for smoothies, pizza, subs and salads, Mexican food and
Asian/international dishes. There's new seating, including booths, plus a
stage with a sophisticated projection system.
The lower level features a convenience store, three conference rooms
with stylish furnishings and lots of amenities "" large flat-screen TVs,
a pool table and Wii and PlayStation 3 game stations. View a photo gallery of the renovations here.
Drake officials celebrated the renovation at a ceremony Oct. 1. "I
offer my congratulations and heartfelt thanks to each and every person
who helped make this project possible," said Don Fletcher, BN'67, chair
of the Drake Board of Trustees. "You are, indeed, continuing a rich
legacy, helping the Drake community build a culture of philanthropy and,
of course, enhancing the students' culinary experience."
The renovation was
made possible by gifts and pledges from the Hubbell family, Hubbell
Realty Co. and the Windsor Charitable Foundation, and funding from
Sodexo Inc.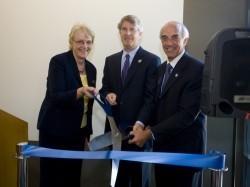 Carla Carlson, Jim Hubbell III and Don Fletcher prepare for the ribbon cutting.
Drake Trustee Jim Hubbell III also spoke at the dedication, noting
that the dining hall is named after his great uncle, Grover Hubbell, who
was a longtime member and president of Drake's Board of Trustees.
Hubbell, a member of the Drake Board of Trustees for 27 years and chair
of the board from 2006-09, said he is proud of his family's longstanding
relationship with Drake and that this project is especially "close to
our hearts."


Contest generates new names for upper, lower levels of Hubbell North
Carla Carlson, district manager for North Central Iowa for Sodexo,
then announced the winners of a contest to rename the upper and lower
levels of Hubbell North. The contest drew approximately 600 entries.
Spike's Spot was declared the winning entry for the lower level.
Graduate student Nicholas Casber, of Altoona, Iowa, submitted that name
and received an iPad as a prize.
Quad Creek Café was announced as the winning name for the upper
level. The name was submitted independently by both Caitlin Schaapveld, a
second-year pharmacy student from Janesville, Wis., and Kyle Glaser, a
junior broadcast journalism major from Junction City, Kan.
Because there were two identical submissions, one name was randomly
selected to win an iPad. Glaser received an iPad while Schaapveld got an
iPod Nano.
Students appreciate late-night dining options



Both floors of the renovated facility are open daily from 11 a.m.
until 1 a.m. The late-night hours are popular with students, as is the
facility itself.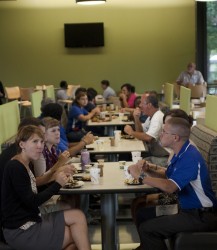 "The seating environment is so nice and new," said Student Body
President Samantha Haas. "I could see eight TVs from where I was
sitting. Plus, I could see what other students were doing and enjoy a
great view of campus. The conference rooms give students a place to work
on projects and hold meetings. The whole project is very functional and
the student-centered design offers so many things of which students can
take advantage."
The Weitz Co. served as general contractor for the project, which was designed by Dan
Sloan, FA'75, of Baldwin White Architects.
Leadership in Energy and Environmental Design (LEED) principles, set
forth by the US. Green Building Council, were applied to the renovation.
The 18,500-square-foot renovated space contains high-recycled content in
building materials and furnishings. These materials were selected to
reflect the look of the original dining hall, designed by Eero Saarinen,
renowned architect of the St. Louis Gateway Arch.
Saarinen's father, Eliel, developed a master plan for campus expansion
in the late 1940s. After Eliel died in 1950, Eero completed the project,
giving Drake nine buildings "" including the Quad Residence Halls ""
designed in the Saarinens' distinctive modern industrial style.